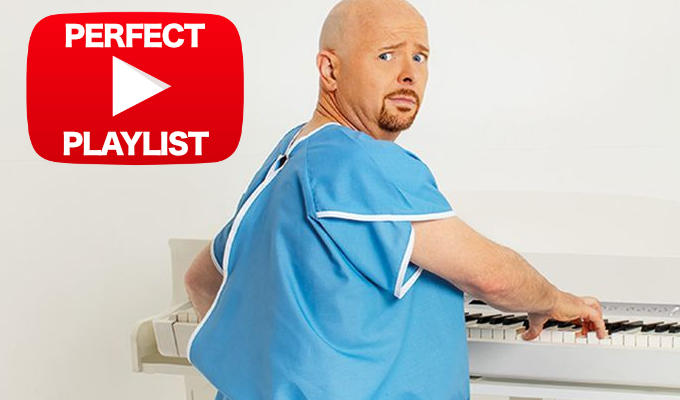 'There is not a single word or scene that could be bettered'
The shows that I didn't enjoy stand out more than all my favourites because they were often ones that my friends would be raving about but just didn't hit home for me.
The biggest shock was Seinfeld. After watching various random episodes and not seeing what all the fuss was about but being told I really should, I bought the box set and made it to series three before I just accepted that I was weird. I make no apologies for it.
As for the ones that did make an impression:
Police Squad
The precursor to the Naked Gun movies. This original series with Leslie Nielsen still makes me cry with laughter like not many things do. Blooper reels have the same effect, so the blooper reel to Police Squad pushes me over the edge.
So much about this series was so original at the time and inspired so much that was to follow. I'm going to throw the movie Airplane in here, too, as it's the same creative team. Timeless comedy.
The Pink Panther movies
In the same vein as Police Squad, I guess. Just utter comedic genius from the disturbed and often difficult Peter Sellers.
I'm terrible at impressions, so have to limit any attempt to just one word. 'Bem' instead of 'bomb' and 'minkey' are enough to get me giggling. Herbert Lom as the Police Inspector is a fabulous lesson in comedic timing. That twitch is just perfect.
I always want to learn about the making of my favourite films and shows but I've avoided this one because I don't want to spoil it with any tales of tension on set.
Friends
This must be a common choice but it's popular for a reason, and thankfully one of the shows enjoyed by the masses that appealed to me too. It's the go-to show on any TV in our house if nothing else is on.
I owned the box set on VHS when it came out and I know I watched every episode but I see ones all the time that I just don't remember. My wife doesn't understand it and neither do I but I'm grateful for it because it's new every time. Little bit jealous of goldfish.
Life Of Brian
Monty Python was part of my childhood in the 1970s but I was a bit too young to get it. Even today, as a huge Python fan, there's a lot of it that doesn't hit home, but this movie is perfect.
There is not a single word or scene that could be bettered. It's thoughtful and well-acted and if I'm ever feeling too laid back I just google the interview between John Cleese and Michael Palin arguing with Michael Muggeridge and Mervyn Stockwood about the film's theme. It makes me fume, as it did a usually calm Michael Palin. They just don't get it.

Robin Williams Live At The Met
I had a fuzzy VHS copy of this show when I was 13 or 14 years old. I didn't have any ambition to be a stand-up comedian at the time although it was heading that way with my comedy magic act. The magic was becoming very secondary to the laughs.
Watching Robin work this audience with his machine-gun, relentless energy held me captivated and still does more than 30 years later. No one had seen anything like this before and like everyone it broke my heart when he left us so suddenly.
He said in an interview that one of the reasons he did his Broadway show was because he had no recollection of his gig at The Met. He was so off his head on cocaine that he wanted to do a show when he was clean. Just remarkable.
Tim Minchin: Ready For This
This is a tough one as we're both pianists and we both do comedy, so ever since I first heard of him and Inflatable You back in 2007 I was obviously drawn to him, but at the same time had to resist being influenced by him too much.
It's the greatest compliment when his name is mentioned with mine favourably, but there are a few who think only he has the right to being funny at a piano and how dare I even attempt it.
I think Tim's a genius in the true sense of the word. Lyrically and musically he just nails it every time. His first Edinburgh show, Ready For This, in 2008 made me question why I'm even doing it but then it motivated me to find my own voice and try to offer something different.
I think there's room for both of us, well I hope there is! I might get one of his quotes tattooed somewhere on my person because when I heard him say it I actually shouted at the TV: 'Fuck yes!' It was: 'I'm a good musician for a comedian and I'm a good comedian for a musician but if I had to do any of them in isolation I dunno…'
• Jon Courtenay: Against The Odds is at Gilded Balloon at The Museum at 6.30pm until August 14.
Published: 4 Aug 2022
What do you think?