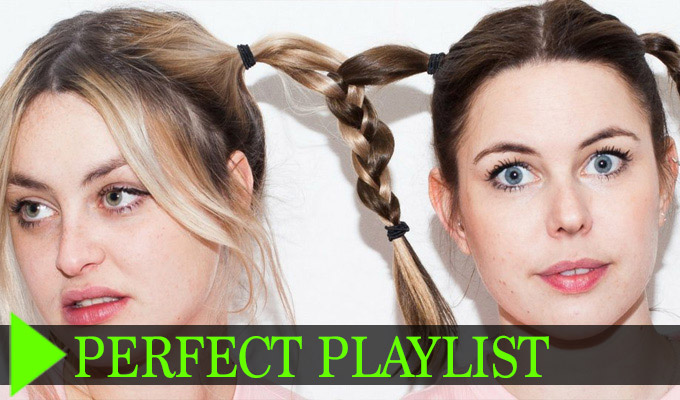 'The epitome of brilliant TV'
Ace Ventura
We can't think of films we have wheeze-laughed at more in our entire existence. What we would pay to watch these films for the very first time again!
Looking back, it's clear we had our first taste of what our exact sense of humour was with Ace Ventura. Years later we could speak along with them and broke the VHS (gross! old!) from overuse.
Watching Jim Carrey was like seeing someone who is made out of rubber, like a human becoming a cartoon. Whether he's squeezing himself out the asshole of a fake rhino, wrestling a great white shark or doing a Slinky and screaming 'GO SLINKY GO' down a huge temple staircase, it's never not perfectly believable in the most ridiculous way.
His agility almost makes him superhuman; it's like every other actor around him becomes a prop that he can use. Imagine trying to do a scene with him and not piss.
SHIKAKA!
Ab Fab
As a character double act who base a lot of our satire on West London, as well as one of us working in PR, Ab Fab is an obvious inspiration to us. There hasn't been a female-led clowny, character-based, absurd sitcom like this since its release and it is still completely untouchable.
Joanna Lumley is so ridiculous, we love how gentle and floaty she is as a human and then is able to be the most vulgar character, injecting Botox into her own face while chain smoking and downing champagne on screen.
Fleabag Season 2
Probably a very obvious one but just can't go unmentioned in our list. Fleabag to us is the epitome of how brilliant TV comedy has become today and is such a clear example of how it has changed.
Season 2 is phenomenal, Phoebe Waller-Bridge has taken the uncomfortable world we live in and pulled out a vulnerable little part of us and everyone we know, so precisely. It's so deep and sad at the same time as being hilarious. it is in many ways tapping into something that is so familiar to us as a generation. The end had us weeping into our groins.
Maddy is also obsessed with Olivia Coleman to a point where its almost unhealthy. She has watched Peep Show series 1-9 around seven times, Marina had to stop her from getting 'chance will be a fine thing' tattooed onto her arm. She is so repulsively good in Fleabag, utterly nauseating but also you can't help but feel sorry for her. Maddy: 'How can I get her to be in my family?'
Marina thinks the sister Claire who loves the man called Klare is the greatest working actress in the United Kingdom.
Britney Spears's Instagram
Now hear me hark, I certainly wouldn't categorise myself, Maddy (in this case), an Instagram wader or connoisseur – but for Britney, I make an exception. Her eclectic posts are of a subtle variety that never leaves me cold, they are pure gold and anyone reading this that should take my counsel and follow this work is in for a real treat. She is amazing. You're welcome.
Bill Dance fishing bloopers
We stumbled upon Mr Bill Dance a few years ago. Not only did we find his complete hopelessness one of the most ridiculous things we've ever seen, but we also found it so inspirational. We actually based some of our sketches on him: brothers Gunt and Front who owned notorious fishing tackle box shop Shakity Skak in the first show and businessmen Gary Bits and Gunt Bobs from our show last year.
His strive to be the perfect fisherman is never quite achieved and his frustration in that is so honest and vulnerable that you just want to be his friend and watch him day after day completely destroy everything around him.
His curses he uses in moments of rage, 'Damn Skillet' and 'WOOOOW Nelly', are so quintessentially 'fisherman from the South', that anyone with a hunger for character comedy will want to snap that up and channel Sir Dance in one way or another.
We are so grateful for wonderful fools like him because there will always be one somewhere in the universe. Thank Lord for cameras because GOSH DANGET Bill Dance is an inspirational legend.
Rock it man
Not an obvious choice for our comedy playlist, however this mere eight seconds of Paul McCartney sending a message to his son Jamesey' seconds before he plays live on Lorraine at 9:18am, is absolutely the most re-watchable piece of genius that has changed our lives forever, for the better.
Let's break it down; Jamesey is asked about how he deals with the expectation of his dad's name and heritage – a strange question to ask before immediately playing a pre-recorded piece of genius from Sir Paul himself.
Let's move on. Not only does Paul's completely loveable air guitar and squealed 'ya' melt your heart, but he progresses to glue his thumb and index finger together and coin them around his pursed, moist, genius lips to push out a singular kiss. His trademark and now ours. This, to us is enough to establish him as one of our top six and is our favourite real life video on the internet.
For more of this utter genius from Sir Paul, please also check out his video 'An urgent call to action from Paul McCartney'. (We have pledged)
'Pledge dot MeatFreeMondays dot com. You can do it right now pleeeeease'
• Siblings: The Siblinginging is on at Underbelly George Square at 18:40
Published: 9 Aug 2019
What do you think?