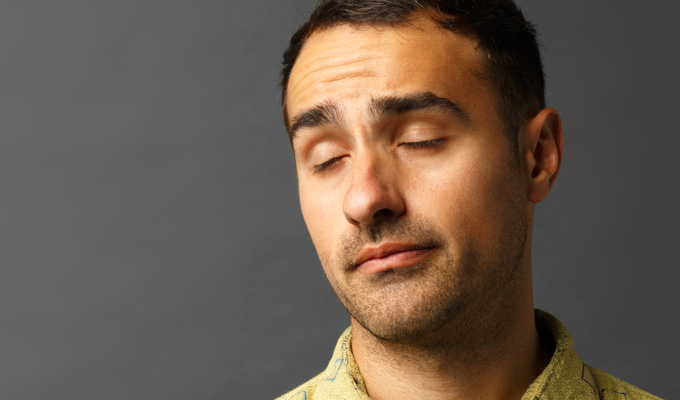 'The funniest portrayal of the most hellish guy...'
Jamie Demetriou's new comedy. Stath Lets Flats, starts on Channel 4 on Wednesday, with the comedian playing an incompetent Greek-Cypriot lettings agent. Here he shares his Perfect Playlist of comedy favourites… including a whole festival!
Edinburgh Festival Fringe 2009
My first year doing comedy, and my first fringe visit, with my uni sketch group Bristol Revunions and our show We Made a Funny' (Did we?*). A very formative month.
I don't know if it's because I was so new to it all, but so many of the acts I saw set a very high bar and made me tired with excitement. Tim Key and Jonny Sweet won the prizes - still two of the best minds, for my money. Then there was Anna and Katy, Nick Mohammed, Cardinal Burns, David Earl doing Brian Gittins, Colin Hoult, Ginger & Black, Tom Basden, and Sheeps were doing their Footlights show.
The list is endless (although it did end there). But they were all the créme. They're still the people whose stuff I never tire of watching.
*In a way. We plastered our poster with our three-star review from Chortle if that tells you anything.
Popstars
  The last of the golden un-self-aware reality talent shows. It's so so shit and good.
My DVD of it is charred from overplay. I love everything about it. The characters are all incredible; so little charisma or talent but so much energy and self-worth.
The auditions take place in what I think is a crisp box storage facility, and everyone sings their S's as Sh's. There's a bit where a guy is crying in the toilet because he's been asked to sing a song that isn't a hymn, and there's a guy pissing and burping in the background. 
Nobody knew what they were doing, and it was so much shitter/better for it.
Mark Proksch: Good Morning Tristate
My sister, Tash did a project with Mark last year and she showed me this pilot he'd made. I was kicking things and smashing everything in my flat up within about three minutes. I haven't laughed at a TV thing that much in my adult life.
Mark Proksch plays this fucking idiot of a morning TV show host, alongside an unwitting team of real hosts and guests. Everything he says and does in it is the end of my life.
Cumbo
David Earl has been being one of the funniest character actor/writers around for ever. His character Steve Cumberland is perfection. A vlogger with nothing about him, desperate to prove that life is a party and he's the DJ.
I love comedy about mild people really trying hard to be cool, this is the height of that. The funniest, most accurate portrayal of the worst, most hellish guy. So much truth and pathos, but always undercut by how pointless his life is. Genius.
This is the first episode of a recent series he made of them, watch them all.
Dave Chappelle
I feel like I never laugh at stuff out loud when I'm on my own, makes me feel like I'm going mad. Dave Chapelle is an exception to that rule, totally happy to be go mad for him. I never stop enjoying his old specials, even after what feels like thousands of watches.
I went to see him at Hammersmith with my friend Rupert, it was phenomenal. The show was about 80 minutes, but I think I laughed for about two years. He's a god.
The Office
Weirdly, I actually think The Office is very good! It's untouchable. If somehow you haven't seen a clip of it. Here's a clip of The Office. It's about an office and it's probably the best thing ever made.
• Stath Lets Flats, which also stars Katy Wix, Dustin Demri-Burns and Tom Stourton,  launches  on Channel 4 at 10pm on Wednesday.
Published: 25 Jun 2018
What do you think?