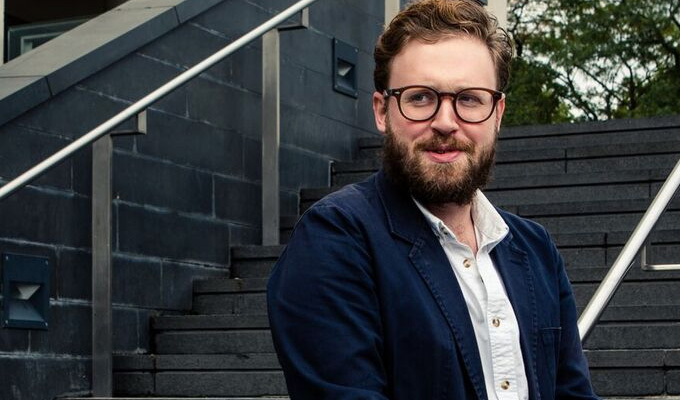 'More than just a sitcom'
As John Kearns prepares to kick off a two-week residency at London's Soho Theatre on Friday, he chooses his Perfect Playlist of comedy favourites
Norm MacDonald Live
It's testament to the high regard in which Norm MacDonald is held, that his guest list reads like a Who's Who of modern American comedy. Stories about Rodney Dangerfield, old Saturday Night Live casts, grisly details of child kidnapper Albert Fish and getting all of his guests to read out a pile of unpardonable jokes, make this the best chat show out there.
Only Fools and Horses 
The greatest sitcom ever made.
I grew up in South London and John Sullivan's scripts were my Bible, so much so that I'd read the first four series before I'd seen them.
The clip below is taken from the episode Little Problems, when Del is left on his own after Rodney's wedding. He's just had an emotional goodbye with his brother and told Marlene how he wasn't willing to put Rodney into care after they were left to fend for themselves.
The heart that all the actors bring to Sullivan's words is extraordinary, and each series teaches you all you need to know about family, loyalty, friendship and the art of a good deal. 
Maria Bamford
This special is performed in front of just her mum and dad.
She's on a par with Richard Pryor in how she can populate a stage (or living room), her voice switching as quickly as her non sequiturs. Her material is daring and extremely personal, dealing with being hospitalised and mental illness but having true funny bones makes her one of the best comedians there is. 
Ever Decreasing Circles
Written by John Esmonde and Bob Larbey, it is striking how melancholy Ever Decreasing Circles is. Everything from the suburban, middle-class decor to the yearning piano over the end credits, it feels much more than just a sitcom.
Martin, played by Richard Briers, is a man who likes things just so; happy to exist in a world of spreadsheets, itineraries, immaculately kept cricket scores and committee minutes. The new neighbour Paul on the other hand is flirtatious, funny and his complete opposite.
I find Penelope Wilton's performance as Anne, Martin's long suffering wife, heartbreaking as she struggles to cope with Martin and getting him to change his ways. They are truly in love, though.
As for their friends Harold and Hilda, they are so jarringly bizarre in their mundanity and timing they wouldn't look out of place in Twin Peaks.
EDC is a show that raises life's detail and the structures we create for ourselves to an art form.
Brian Gittins
In the episode of The Brian Gittins Show Embarrassed And What Have You Found?, Peter the Robot calls in and helps Brian with his Skype signal; they take turns to say the word 'test' for ten minutes.
In Insomnia And How Poor Have You Been?, we first meet Professor Charles Petrescu who tells us all about his creation Peter the Robot and being born in the main part of Romania.
Prof. Charles now helps Brian and the truly idiosyncratic David Edwards on his podcast Brian Gittins And Friends which never fails to make me cry with laughter. 
Brian Conley
'Hello Chilblains!' Brian Conley made me laugh more than anyone else when I was growing up, his Saturday night show being essential viewing.
He gurned, sang, batted his eyelashes, corpsed and made my whole family laugh with stunts, jokes and an unpretentious silliness.
I've been lucky enough to meet so many people I admire but Brian Conley would be someone I'd go all tongue tied with.
• John Kearns: Don't Worry There Here is on at the Soho Theatre at 9.45pm from September 15 to 30. Details.
Published: 11 Sep 2017
What do you think?