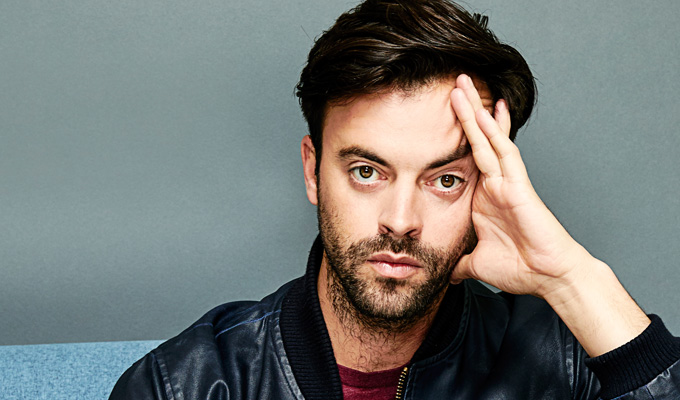 'The boldest satire the British public have ever been treated to'
As his new show, Revolting, starts on BBC Two, Jolyon Rubinstein chooses his comedy favourites.
Monty Python And The Holy Grail
When I was a child I used to go on family holidays to Wales. It was a five-hour drive from London and my parents had a tape of The Holy Grail that we forced them to play again and again. I knew the whole thing off by heart. I used to be able to reel off whole scenes at the age of 10. I'm dyslexic and I've always learnt through my ear.
I think there are so many levels to that film. The silly voices, accents and absurdity had me as a child. Watching it again this Christmas it's the way it deals with class, satirises form and breaks every convention known to man that I love. It's comic gold on every level. It's a tough shout, but the utter ludicrousness of the braying mobs demanding to burn the witch as she weighs the same as a duck that's probably my favourite scene.
Bottom
Everyone knows Bottom is a classic but after Rik Mayall passed I think everyone finally recognised the true level of the man's genius. The scintillation of his intensity is just unbelievable. Those eyes, and that smirk.
Bottom was the kind of comedy that you feel deep in your gut. At least I did. I remember laughing so much that it hurt. There chemistry is magic. I'm a big fan of gleeful absurdity I guess. It was a show that was a big part of my childhood.
Harry Enfield & Friends and The Fast Show
Whitehouse and Enfield were my comic gods when I was growing up. I knew Smashy and Nicey & Kevin and Perry off by heart (Kathy Burke. Another titan who's made me piss myself more than once) and used to recite them line for line in the playground with mates.
For me, though, the Fast Show took it to another level. The pace of the cut was always a big reference for us when we started to build the Revolution Will Be Televised. Personally I feel far to much comedy on TV doesn't get out of the sketch/scene fast enough and labours the joke. For me Whitehouse has the broadest range of any sketch character comedian. I met him once and was a totally uncool fan boy. The man's a comic god. What can I say?
The Day Today and Brass Eye
I was in my room at 14 or 15 years old when I watched the first episode of The Day Today go out. I'll never forget it. It made an indelible impression on my comic soul. It's genius. It still feels relevant and vital all these years later and arguably has never been topped satirically.
Years later I read Digusting Bliss: The Brass Eye of Chris Morris which is a biography of the great man. The stories about the creation of the show and On The Hour (the Radio 4 show that preceded it) were incredibly useful when we started going through the realities of the commissioning process. You look at the people involved in that series and you can only stand in awe at the level of comic talent in the cast. They've all gone on to make my favourite work. Armando Iannucci's Thick Of It and Veep, Patrick Marber's play and then film Closer. Oh, and that guy Steve Coogan, he was in it as well, wasn't he? Whatever happened to him?
Brass Eye blew my mind. I felt like it was made for me. I connected to it like so many of us did at that time. The world as reported to us by the media is absurd and no one has nailed the parody of it quite like Morris did. Unchained, taboo breaking and shocking - it's still the boldest satire the British public have ever been treated to in my opinion.
Chris gave me my first job in Telly in Nathan Barley. After the first audition with Charlie Brooker (another legend) I went into a soho rehearsal studio, Chris walked in. With almost no introduction he was auditioning me, 'Right you're a pop- star and we are at a recording studio in Amsterdam. I'm a journalist and I've come to talk to you about your new album. You've gone into the booth to lay down a vocal and left three lines of coke on the guitar outside. You come out and I've done them all… Go!' That improvisation was quite possibly the best fun I've ever had in my whole career.
Ali G and Borat
For Heydon [Prowse, his Revolting and Revolution Will Be Televised co-creator] and me, Ali G and Borat were huge inspirations when we started to play characters in the real world. From the very first time I saw Ali G on the 11 O'Clock Show, it was comedy that felt so brave. It changed the game.
Utilising jeopardy to compliment character comedy was revolutionary. It gave it a unique edge. The power of the characters that Baron-Cohen created was the unguarded responses they elicited.
When Borat is on the fox hunt and says: 'You feel like real man when you kill the hox,' and the guy on the horse says: 'Yes it makes you feel like a real man.' Jesus it was solid gold. It's one of my favourite moments of TV. It gets to a truth and totally nails the guy to the post. It's not about the tradition of fox hunting or the pageantry! It's about ripping an animal to shreds to make you feel a bit bigger.
Heydon and I hold the opinion that the British public never like being told what to think. But when you make them laugh like Borat did they can see what the truth is and you might even change their mind and bring them around to your way of seeing things. In that way it can be a revolutionary tool.
• Joylon Rubinstein stars with his Revolution Will Be Televised co-creator Heydon Prowse in the new BBC Two satire Revolting, at 10pm tonight.
Published: 3 Jan 2017
What do you think?