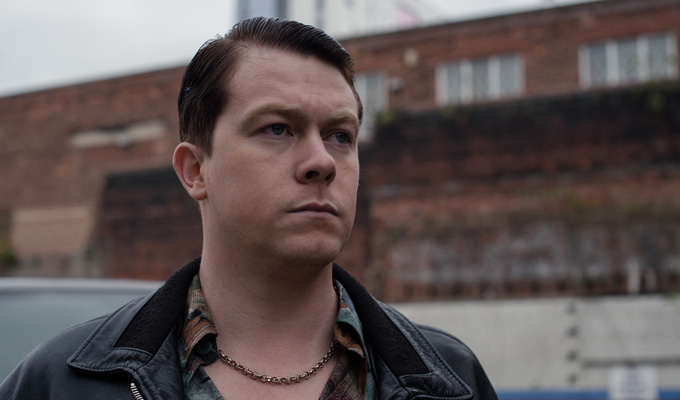 Chris Morris has funny bones... like Tommy Cooper
Normally in life I wait for people to tell me what I think about something before I offer my thoughts. I was delighted to do this and discover I did actually have some thoughts. The fact that I appear to have copied previous contestant's answers may undermine my previous statement. Anyway, time will be my judge. Fingers crossed that I win.
Big Train
Sketch is dead, apparently. Everyone's saying it. Or at least someone has said it. I think someone has said it once every six months since about 1973. I really hope it's not dead though.
There'll always be a place on telly for shows like Big Train. It was the first comedy show I felt territorial over. I felt like it had been made for me. It was stupid in a way I adored, and the whole thing was elevated by the calibre of the performers. Simon Pegg, Kevin Eldon, Mark Heap, Julia Davis, Amelia Bullmore, all have an uncanny ability to make the silliest scenario real.
Brass Eye
Chris Morris gets given names like 'Dark Prince' and 'Mysterious Lord"' and 'Milky God' and is generally revered among comedy connoisseurs as the skewerer of all things bullshit.
Something I feel is rarely mentioned is just how brilliant a comedic performer he is. He has funny bones in the same way that Eric Morecambe or Tommy Cooper did. Well, not exactly the same way, but, like them, he can put funniness all the way to the ends of his fingers.
There's a moment at the beginning of the Animals episode in Brass Eye where he's talking and slapping a pig carcass. There's something in the look he gives the meat, the slight floppiness of his hand, and the solitary slap he adds after he's finished talking that exemplifies for me just how extraordinary his timing is. Comedy jazz.
Eddie Izzard
I saw Unrepeatable on Channel 4 late one night way back when and embraced Eddie Izzard as my first stand-up hero. He continues to be my favourite stand-up ever.
Why Bother?
I realise that Liam Williams has already put Why Bother? on his Perfect Playlist, but the truth is it's something I listen to ritually, and I couldn't leave it off with a clear conscience. I know how important honesty is to people in a list of someone's favourite things. I hope, when the judges deliberate about who wins this competition, it doesn't affect their decision.
When I was at drama school one of the improvisation games we used to play was 'Yes and…' the rules were you could never say 'no' to any offer made to you in a scene, you always had to say 'yes' and then add some other element. In Why Bother? Peter Cook and Chris Morris give an improvising masterclass while saying 'no' quite a lot. I listen to it regularly because it feels like I'm reminding myself of some weird unwritten comedy rules. It's a balls-out joy.
South Park
South Park has carved out its own area of television where pretty much anything goes. Its popularity meant it could gradually move from relatively tame beginnings to episodes like 'Crack Baby Athletic Association', with lingering shots of cartoon crack babies. It's astonishing to me that they make an episode in six days. It's the best. Nobody does film parody better and there is no funnier psychopath than Eric Cartman.
Stewart Lee
Seeing his show at the 2009 Edinburgh Fringe is still one of my best experiences of live comedy. I've tried to see him every time I can since. There's no one else like him.
He talks of seeing comedian Ted Chippington supporting The Fall in the 1980s and that it was the moment he realised 'stand-up could be anything you wanted it to be'. He is a great reminder of that and he reminds me of why I love comedy so much, its variety and its capacity to say something important. An inspiring comedian. His book on stand-up is wonderful too, especially to comedy obsessives like me who can pore over his show transcripts and get all hot and bouncy.
• Daniel Rigby stars in Undercover, which starts tonight at 9pm on Dave.
Published: 16 Jun 2015
What do you think?