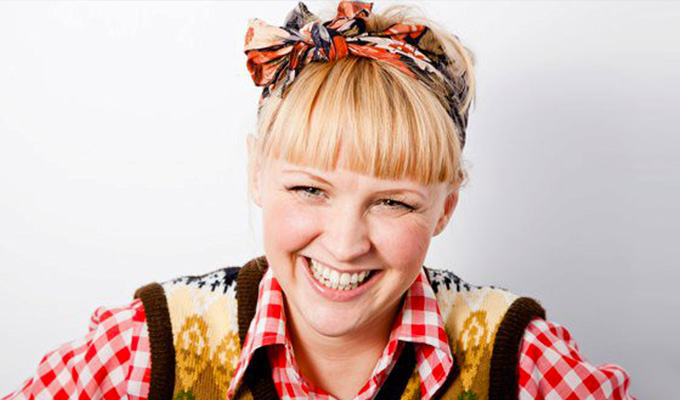 'The master of observation and delivery'
Mrs Merton: Debbie McGee
This one probably doesn't surprise anyone who's aware of my 'nan child' past, she's a genius chat show host and completely timeless, this could be on TV today and still really work. I loved that she could have any guest, including fellow comedians, in stitches and was smashing stereotypes of the old in a positive way, which is something I'm a big fan of.
I was young enough to be quite confused at the time as to whether she was real or not but I didn't care, I loved it! Some of it was down to the intricate detail of having old people in the audience. My old mum, however, was not a fan (probably too close to home) and would say even when I was child 'you could do better then that' which is a strange aspiration for a mum to have for their child to dress up as an old woman…I wish I could mum!
Bob Mills: In Bed with Me Dinner
'Job, job, no job'
Well how do you pick one clip from this original and best ever clip show! Bob Mills is the master of observation and delivery. This video is a fantastic example: It's just some ordinary TV show about a man trying to get back into building work but Bob is sublime at picking up on little details and making weird and relatable observations: 'Oh yeah I do do that'. I particularly like the bit here about pretending to speak to someone when you've been ignored.
This show was an after-the-pub favourite of my sister and her husband (then boyfriend) that I, the little annoying sister, would creep in and watch with them! Even to this day we still watch and quote it: 'All that palaver'.
I urge you to set aside a whole day to search out other clips, especially Bob on the streets when an old woman tells him about her mum's 'damp back passage…in her house'. Bob has such a way with people that they just tell him anything I wish he'd had his own chat show.
An audience with Victoria Wood: Kimberly
One day I asked my mum what she thought my dad would have said about me doing comedy. 'Well I remember him telling me about a woman at work that told jokes,' she said, 'and he thought she was a bit vulgar.'
Was this why I never remember people like Victoria Wood being on in our house? I first discovered her round my friend Jackie's house where I was in awe of watching her older brother and his girl mates quoting: 'I couldn't get you a raspberry yoghurt so I got you a meat and potato pie'.
I later found out from my mum, who typically gets a story wrong, that dad (sadly no longer with us) had said the woman-at-work jokes were vulgar, not the fact that she was doing jokes - phew! I think I would be OK in his eyes, then. Although he did apparently mutter: 'They're vulgar but I couldn't help laugh at them'.
Mike Leigh: Life is Sweet
Well really this is a clip to represent all Mike Leigh films. Maybe not an obvious laugh-out-load choice, but for me and my family it was. Abigail's Party and Secrets And Lies were both regularly quoted in my house: 'Tone, Tone, haven't you got lovely footballer knees', 'You can't be mine, love, you're black …'
His films, and in particular the characters that actor Alison Steadman plays, have been a massive influence on me and the importance of getting a character right, as it's only then that you are truly invested in the piece no matter how good the writing is.
In this, Alison Steadman's character Wendy is a woman we all know - warm and optimistic. It's her honest formula portrayal that makes her so funny. However it's Timothy Spall's character – 'I've got a pineapple' – and his relationship with Wendy that really brings the often-cringing comedy scenes. If you haven't already, go see!
Here's the clip, which isn't embeddable.
Curb Your Enthusiasm: Chat & Cut
It's hard to find one little clip of Curb because it's all about the wonderful connections and callbacks. I don't need to go on about how great this is on a comedy website, everyone already knows! I was probably late to the party discovering Larry and I'd say anyone who still hasn't, you have to take a sick day off work, watch the box set and really immerse yourself into his exasperating but totally relatable world. I can be that person who points out things while others think: 'Just keep quiet Hatty…'
Step Brothers : The Bunk Bed
'Hey I never asked you but do you like guacamole?'
Well here's one to throw you - I bloody love this film. This film just got me. I could watch it all day long, it's kinda become my comfort film.
To me Will Ferrell and John C. Reilly are bloody brilliant at nailing these characters and it's modern day slapstick clowning without being all Some Mothers Do 'Ave 'Em.
This film did get me into trouble once though. I was once temping as a teaching assistant in a boys' school and on a Friday afternoon the 14-year-old boy I was looking after got free time. He was severely autistic and really hard to keep entertained so, after going through many cartoons, I slipped on Step Brothers. Of course the teacher came in just as the scene where Will Ferrell puts his balls on a drum kit. The kid bloody loved it, the school did not.
I wanted to include so many more like Vic Reeves Big Night Out, which was a big part of my childhood when I would act it out word for word.
Dawn French, Alan Carr, and Bridget Christie live all played a part in getting me into comedy but hey, I think most people might just know about them guys – and I gave up trying to pass the cool test, just like what you like and be proud, kids!
• Hatty Ashdown's sitcom Give Out Girls – starring Diana Vickers, Kerry Howard, Cariad Lloyd and Miranda Hennessy – is currently on Comedy Central at 9.30pm on Tuesday nights.
Published: 27 Oct 2014
What do you think?