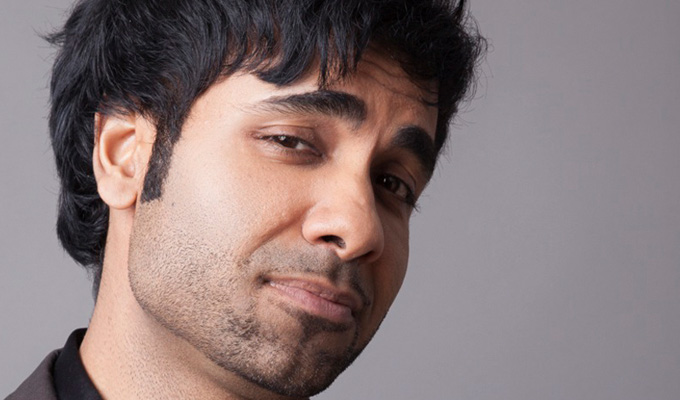 'A masterclass in what not to do'
Joan Rivers
She's a real living legend. As normal, in this recent interview she doesn't hold back. CNN probably didn't know what to expect. At 2mins 36 seconds it escalates very quickly. After the interview, the reporter still doesn't really understand why Joan reacted that way. This clip shows how not to criticise a comedian in an interview. 
Rivers ticks a lot of boxes in the entertainment world, but the most important and inspiring is her age. Like so many greats – Bill Cosby, Bob Hope, George Carlin and Suzi Ruffell – she performed well beyond retirement age. It'd be good to see not only more diversity on British TV, but also the different generational demographics with their opinions on current debates. Hopefully they will not walk out in the process.
Patrice O'Neal talks Honesty
I had the honour of knowing this man. I shared many bills with him and it was always an education of honesty. He was, without doubt one of the best comics on the planet.
The interviewer became less rigid towards the end of this and it probably helped his interviewing skills for the future.
I was at Patrice's UK TV recording of a Paramount show filmed in London called The World Stands Up. During his set, he upset a table of women, some of whom walked out while shouting at him, yet he was having a great time on stage, loving every second. Comics were obviously in hysterics.
Like all of the best comics, people either loved or hated him, but he was always honest. You can only respect that in a person, even if you disagree.
After watching his set at Late & Live in 2000, he told me how to approach my set there the day after. This was in the days when that gig had its notorious reputation of comedy deaths. He said just do your old stuff. I was too new to have any old stuff, but I got through it.
RIP Patrice.
Jerry Seinfeld: Comedian
This may well be one of the best documentaries on stand up. The teaser trailer is brilliant as it takes on one of the hackiest topics covered in stand up - the voiceover man. The only difference is this is the actual voiceover man that comics would joke about  – Hal Douglas. He passed away this year, but for years was the biggest in the film world, and never even left his house to do his recordings. He'd just send them all in.
If a new stand-up asked me about films he'd want to learn from, the list would be endless, but this would be high up.
Seinfeld's Comedian is the only documentary the captures the psychological torment of a comic. It is the comedian's comedian of documentaries.
I've never met Orney Adams, but this film boosted his comedy profile than any BGT appearance.
If this documentary doesn't make you want to go to an open mike night and try out some new material, just become a writer instead.
Bad Set
This clip's clocked more than 2million views, for all the wrong reasons - a masterclass in what not to do on stage. An unnamed US comic, or open mic-er, verges on infringing on his audience's human rights as he labours through a set that doesn't work only to repeat it after reintroducing himself onto the stage three minutes in. If you make an audience wait that long before your first joke, it better be amazing.
Unless you started stand-up yesterday – and this appears to be an established act on a TV recording – you have to worry when you find yourself assuring the audience: 'I am funny, I did these jokes last night and they worked.'
The real victim here, however, is the audience. If a comic's jokes are not working and he doesn't care, it's they who have the problem. The chap kicks off his set by thanking God – that gives him time while he tries to breaks the ice. The ice doesn't ever break. 
When he finally leaves the compere ungraciously guns for him and, needless to say, even God doesn't save him. He may have gone too far when he said: 'He aint gonna get pussy tonight.'
Laurel & Hardy
https://www.youtube.com/watch?v=ayUjkSvdrug
These two kings left a legacy.The word 'legend' is used too loosely these days. But Stan Laurel and Oliver Hardy are in my opinion, the greatest double act of all time. This may be controversial, but I think they're even better than Ant and Dec. I saw Sons Of The Desert and The Music Box films when I was six years old and they stayed with me ever since.
It's hard to believe this was recorded in 1932 and still stands the test of time. That's like people in 2096 watching the comedy of today. The only comedy fossil they'll find then will probably be Mr Bean.
When Americans criticise the English sense of humour, they should always be reminded about who the brains of this creation was - Stan Laurel, the Brit in the relationship.
Richard Pryor: Pryor Convictions
It's become clichéd for a comedian to say Richard Pryor was a major inspiration. But his autobiography Pryor Convictions will make that cliché become a reality. It shows why he's still in comedy's heavyweight division, untouchable and well ahead of his peers maybe even today.
It's more than just about his stand up, it includes a lot of detail about his drug induced career. It amazed me that he was on drugs during so many of his concerts and film, including Superman 3, but still managed to pull Louis Lane – Margot Kidder.
Lots of people look up to celebrity and say, 'I'd love to be them for the money they make.' Even though Pryor was one of the most successful comedians of all time, I don't think anyone would've wanted to live in those shoes. He lived a tough life, but made it all so funny.
• Paul Chowdhry: PC's World is on at Assembly George Square Studios at 21:30 until August 10 only.  
Published: 1 Aug 2014
What do you think?