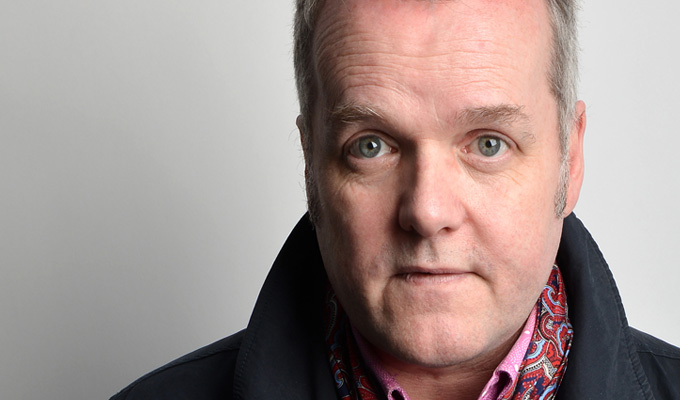 'Skilful, inventive and most of all hilarious'
Laurel and Hardy
My earliest memory is sitting on my Dad's knee, with snow falling outside, while he watched Laurel and Hardy trying to sell fish in Towed In A Hole. I have loved snow and the boys ever since. I was amazed to find that Stan was the brains behind the comedy and laboured over every frame, every beat and every glance.
They still make me laugh like a child and I still find something different every time I watch them. Helpmates is the perfect blend of physical comedy and verbal dexterity. Two words: 'im-possible'.
Round the Horne
'Oh hello. I'm Julian and this is my friend Sandy.' I was first introduced to Julian and Sandy by a friend who was a young actor when it was still illegal to be gay, a time when Round The Horne was an innocent family friendly radio comedy to some and a subversive joy to others.
Like Jules and Sand, my actor friend spoke Polari (spoke it bona he did) and it's still hard to imagine that using obscure slang and some eye-watering innuendo they presented clearly gay characters on a Sunday afternoon radio show. 
Bona Bookshops is a fine example: 'Would you be interested in Spenser's Faerie Queen?' 'No, he's not interested in mine'
It always amazes me that in discussions of influences on alternative comedy (normally centred around Python and Spike Milligan) Dave Allen rarely gets a mention. His mix of one-liners and shaggy dog stories, his wonderful use of language and his bemused belligerence at the idiocy of the world made him worlds apart from the old joke tellers that surrounded him. 
His routine about trying to teach his young son the time is a masterpiece.
The Wow Show
Steve Frost and Mark Arden (The Oblivion Boys) plus actor and comedians Lee Cornes and Paul Mark Elliot joined forces as The Wow Show. The Independent described their 1995 show as 'appalling gags, hammy skits, Marx Brothers clowning and self-mockery performed with amazing speed and energy'. It doesn't begin to do them justice.
In the mid-1990s their Edinburgh shows were ones that other comics paid to see. They seemed like chaos but they were tightly plotted, used every inch of the room and they were absolutely joyful.
There's not much of their stuff around, and for some reason, both of their Radio 4 series have disappeared, but they're worth looking for. Incidentally Lee Cornes is for me one of the most under-rated stand-ups we've produced.
This is possibly the only clip of the Oblivion Boys online
The plastic bag masks and the brilliantly defined working-class idiot savant characters disguises a savage wit combined with surprising tenderness. In Ireland they have almost double-handedly completely changed negative attitudes to their hometown of Limerick which is testament to the power of comedy. Horse Outside would be the obvious choice but my favourite is Spoiling Ivan, a genuinely innocent tale of a young man's friendship with a six-year-old boy.
Terry Alderton
I wanted to choose something that would reflect just how good the current stand-up comedy scene is here in Britain. I could have gone for Sean Lock, Stewart Lee, Jon Richardson, Tania Edwards, Celia Paquola, James Acaster, Adam Hess, Jonny Lennard or a host of others but instead I've chosen Terry Alderton. He may be from a mainstream background but he uses those skills to produce genuinely 'alternative' comedy. His routine using his feet as puppets is skilful, inventive and most of all hilarious.
• Kevin Day: Standy Uppy is on at the Gilded Balloon Billiards Room at 18:15 from July 30 to August 25.
Published: 28 Jul 2014
What do you think?