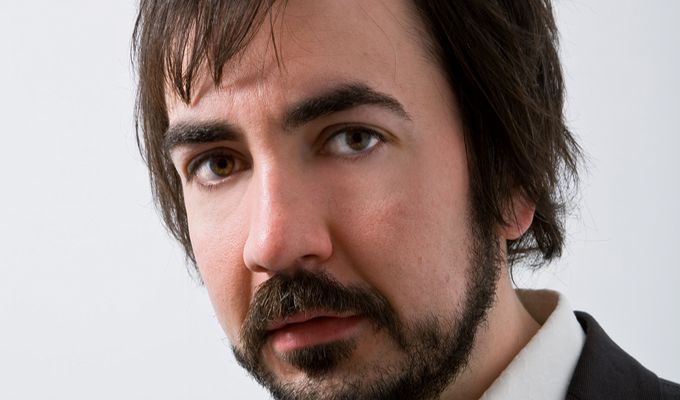 The Day Today gave us hope...
Charlie Chuck's drum kit routine
I have a very poor quality VHS recording of a tremendous Charlie Chuck live performance.
The climax of the whole performance is a routine in which Charlie Chuck smashes up a drum kit while berating the inanimate object as though it were an errant child. At one point he coaxes the cymbal stand to come to him saying, 'I'm not going to hit you, I promise, I'm not going to hit you' before then smashing it with a piece of wood. I don't why I like this so much, but it is one of the few pieces of comedy that has me crying with laughter.
Peter Cook on Clive Anderson
I've always been a massive romantic at heart. I love it when people have it, loose it and then get it back again: like Jesus, David Bowie and the Australian Prime Minister Kevin Rudd. It's that 'cop coming out of retirement for one last case' thing.
To be fair I don't think Peter Cook ever lost it, he just couldn't be arsed being on TV any more. I had been a fan of Peter Cook since my teenage years but by the early Nineties I just assumed he would never do anything interesting again. So when he came out of retirement for one last moment of comic genius and appeared on Clive Anderson I immediately videotaped it (pausing it for the adverts to give the illusion of a seamless show). I particularly liked Cook playing Brian Clough-like character, Alan Latchley.
Footage not available online
The Day Today: Swimming Pool Security Guard
I remember the first time I ever watched The Day Today. It was a complete revelation. A new kind of comedy had hit the airwaves. I marveled at this new comedic sound. At last I had some idea how people must have felt when rock 'n' roll was invented. I remember thinking, 'That's it now. Comedy is fixed. It's all going to be good from here on in.'
That prediction, perhaps, turned out to be a little ambitious. But at least The Day Today gave us hope - and loads of great comedy, too, of course. There are so many unique comic moments but I have always had particular affection for the security guard at the swimming pool played by Steve Coogan. His constant repetition of 'no one died' is sublime.
Kenneth Williams on Aspel discussing medicine
As a child I was frequently disappointed to find that adults were less impressive in real life than they were on Television. In particular my parents' anecdotes, often repeated at their house parties, fell way short of the standards exacted by Kenneth Williams on 70s TV chat shows.
I've got over it now but for a while I was devastated. Kenneth Williams was the first comedian to me who was just funny and didn't seem to tell any actual jokes.
Obviously he was telling jokes but successfully hiding them in apparent conversation. Neat trick if you can pull it off.
Here is Kenneth Williams on Aspel discussing modern medicine.
Bill Burr
What am I looking for in a stand up comedian? Well as a fellow performer what I look for in a comedian is to be simultaneously inspired and demoralised. Inspired because they are so good they show you the possibilities of comedy, the universe opens up before you. Demoralised because you fear you'll never be as good as they are.
If I can walk out of a comedy show feeling elation and dejection then the performer has done his job. No routine quite has this effect on me at the moment, so much as Bill Burr's 'getting a dog' routine.
Peter Sellers Inspector Clouseau: Minky
Peter Sellers was my first ever comedy idol. I loved Peter Sellers as Inspector Clouseau. Inspector Clouseau combined all my favourite things: clumsiness, slapstick, incompetence and Frenchmen mispronouncing English in a way that confuses other French people (who are also speaking English in France) but with not so pronounced a French accent.
But most of all it was his way of not reacting when he screwed something up and trying to maintain an air of dignity when he'd actually embarrassed himself. This is a handy skill if you can pull it off in real life and has many uses. (See a list of British Prime Ministers for more details)
• Stephen Carlin: Gambling Man is on at the Pleasance Courtyard at 18:00
Published: 15 Aug 2013
What do you think?