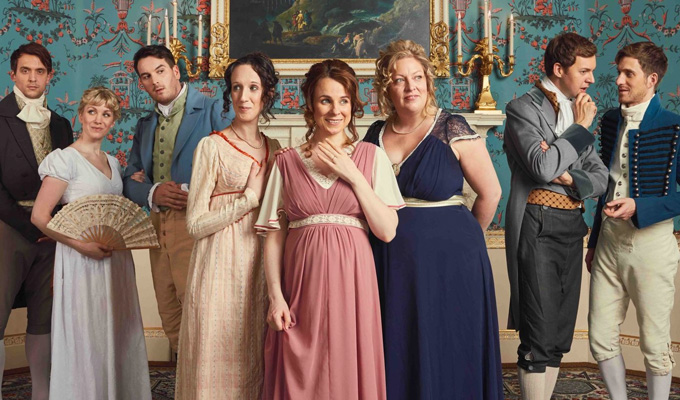 Austentatious waltz back to the West End
Austentatious are to return to London's West End this winter, it has been announced today.
It follows last week's announcement that the troupe - who make up a new Jane Austen story every night based on a title suggested by the audience - would also appear at Underbelly's London Wonderground festival this summer.
The full initial programme for that event, in the upside-down purple cow to be erected on the former Earls Court 2 Exhibition Centre has now been confirmed, including dates for Dead Ringers Live, Mawaan Riswan, Lucy Porter and others. Here is the schedule so far.
Austentatious will be there from July 18, then at the Fortune Theatre for a weekly residency from November 1. Tickets for the West End run are available here.
In a statement, the troupe said: 'It is with the greatest pleasure that after such a long delay we are able to saddle up the horses, don our best bonnets and ride back into London Town. Prepare your best mask, dust off your social breeches and join us for japes, laughs and silliness.'
Austentatious are also touring the UK this autumn. Full schedule. Previous 'lost' masterpieces they have performed have included Monster Hangover Abbey, The Bodice Guard, Mansfield Shark, Strictly Come Darcy, The Empire Line Strikes Back and Bath To The Future.
The cast includes Cariad Lloyd, Rachel Parris, Joseph Morpurgo, Amy Cooke-Hodgson, Andrew Hunter Murray, Graham Dickson, Charlotte Gittins, Daniel Nils Roberts and Lauren Shearing.
Published: 14 Jun 2021
Recent Other News
What do you think?