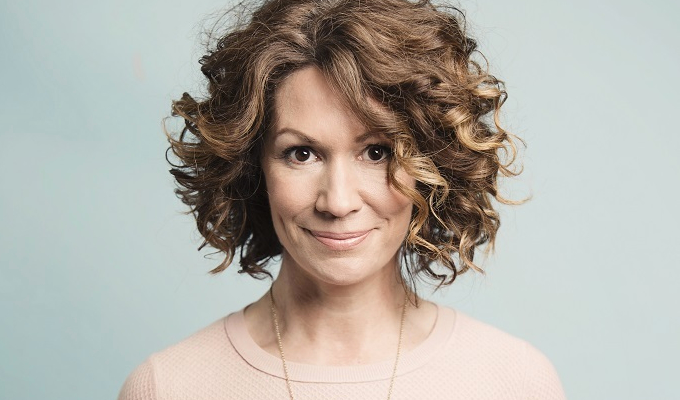 Filming starts on Kitty Flanagan's Australian sitcom
Filming has started on Kitty Flanagan's Australian sitcom, in which the stand-up plays a lawyer forced to take a job at a 'shabby suburban firm specialising in wills'
The six-part series for the ABC network is entitled Fisk, after her character's name, and is due to air next year.
It also stars comedian Aaron Chen alongside Julia Zemiro, Marty Sheargold, Glenn Butcher and John Gaden.
Being shot in Melbourne, the series – which previously had the working title, Entitled – is described as a 'fast-paced workplace sitcom that taps into the everyday world of inheritances and squabbling relatives'.
Flanagan also co-wrote the show with her musician sister Penny and co-directs with Tom Peterson.
She said: 'This is the dream. My own show with all my favourite people both in front of the camera and behind it too. I'm thrilled to be making this in Melbourne for the ABC. We have such amazing, creative people in Australia, the more local content we can turn out, the better.'
Todd Abbott, ABC's head of comedy added: 'Kitty Flanagan is, quite simply, one of the funniest humans alive, and a show created by and starring her is long overdue.
'Every page of these scripts is laugh-out-loud funny, and the cast and crew that she's pulled together guarantee this series is going to be a ripper. What a treat for all of us.[
Flanagan worked on the UK stand-up circuit around the turn of the millennium and starred in the second series of ITV's The Sketch Show in 2003 alongside Lee Mack, Tim Vine, Karen Taylor and Jim Tavare.
She most recently played one of the main characters in Australian sitcom Utopia, set in a quango responsible for major infrastructure projects, alongside fellow comics Celia Pacquola and Luke McGregor.
Fisk production credits
Made by: Porchlight Films for the ABC.
Written by: Kitty Flanagan and Penny Flanagan
Directed by: Kitty Flanagan and Tom Peterson
Produced by: Vincent Sheehan
Executive producers: Greg Sitch, Liz Watts, Anita Sheehanm Todd Abbott and Brett Sleigh.
Published: 26 Oct 2020
What do you think?