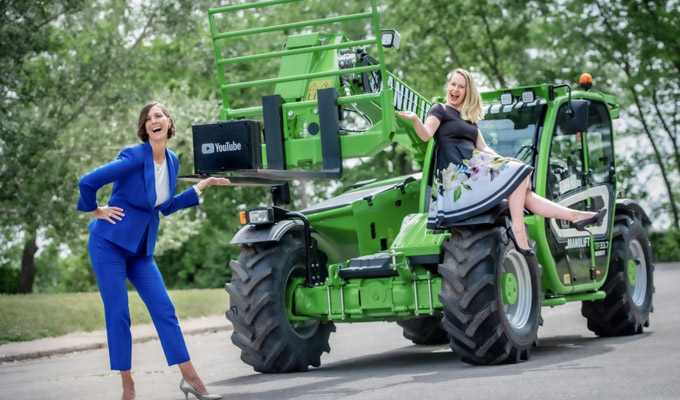 Just For Laughs celebrates 10million YouTube subscribers
Just For Laughs, organisers of the annual Montreal comedy festival, have been given a YouTube award after hitting 10 million subscribers.
Luiza Staniec, of Google Canada, used a forklift to hand over the Diamond Play Button to the company's marketing chief Anne Belliveau, in a socially-distanced photo op
The milestone was reached by the Just For Laughs Gags channel, which features a new non-verbal hidden-camera prank video every day. It now features nearly 7,000 clips, shot over 20 years and has amassed almost 6billion views. The most popular sketch, entitled Panty Thief, has been seen 111million times.
Just for Laughs now runs 11 YouTube channels in several languages including Arabic, Chinese, German, Greek and Spanish, with nearly 20 million subscribers combined.
Belliveau said Just for Laughs Gags 'has now become an international icon among pranks and comedy lovers.
'We are extremely proud of the digital experience we've created, that audiences across the globe have come to enjoy. This is a benchmark in our continued digital investment, as we bring our comedy to more fans across the globe.'
Andrew Peterson, head of content partnerships at YouTube Canada added: 'It's incredible to watch a cultural institution that has been entertaining Canadians for decades find new and innovative ways to engage audiences and distribute their content.
'In growing to over 10 million subscribers, the Just for Laughs Gags channel has joined the ranks of the top echelon of creators on YouTube. It's absolutely fantastic to see Canadian content reach an audience of this scale at home and abroad.'
Published: 15 Jun 2020
Recent Other News
What do you think?