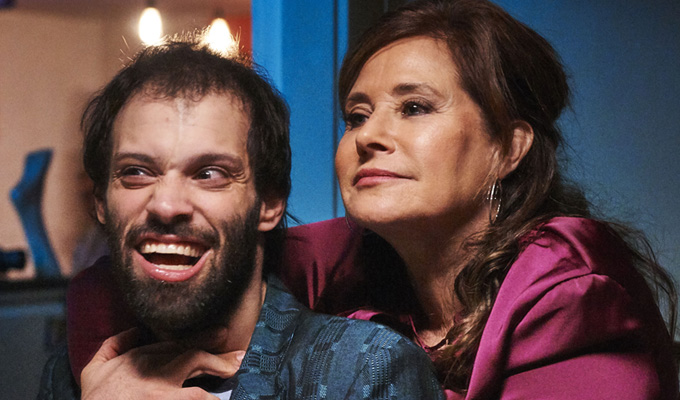 BBC confirms air date for Tim Renkow's Jerk
Tim Renkow's BBC Three comedy series Jerk is to land on iPlayer on February 24, the Corporation has announced.
The four-part series follows a pilot episode, entitled A Brief History of Tim, that was broadcast as a Comedy Feed 2016.
Lorraine Bracco – best known for playing Tony Soprano's psychiatrist Jennifer Melfi in The Sopranos – will again co-star, playing the loud mother of Renkow's alter-ego.
The American-born comedian plays a heightened version of himself: a man who knows his cerebral palsy makes people uncomfortable, so he exploits it.
But while he is playing the 'asshole', he takes his eye off the bigger prizes: the job, the girl and the visa.
Alex Smith, head of comedy at programme-makers Roughcut, said: This is a brave and mischievous show with a unique lead; a young man who's his own worst enemy and knows because of his cerebral palsy he can get away with almost anything.
'Tim Renkow is a fearless standup, who thrives on pushing the line of uncomfortable jokes. The transition from his stand-up talent to sitcom was hugely satisfying for Roughcut to collaborate on.'
Sharon Rooney from My Mad Fat Diary plays Ruth, his indifferent care worker, and Rob Madin, from the deadpan musical duo The Brett Domino Trio, plays his pal Idris.
Renkow said: 'I loved working with such a talented group of people - they even managed to make this reprobate look presentable. There was such a great atmosphere on set. It was like a family, except everyone really liked each other.'
Shane Allen, controller of BBC comedy commissioning added: 'Tim is the ultimate kamikaze comedy rebel who takes risks and no prisoners. The entire ensemble on the show are knockout. Strap in for one of the most distinctive and outrageous sitcoms on air this year…'
Jerk will also air on BBC One as part of the new BBC Three strand at 10.45pm Monday to Wednesday.
Production credits
Written by: Shaun Pye, Tim Renkow and Stu Richards
Made by: Roughcut TV and Primal Media.
Executive producers: Ash Atalla and Alex Smith for Roughcut TV and Mat Steiner for Primal Media
Produced by: Roughcut's Rebecca Murrell
Directed by: Tom McKay
Commissioning Editor: Alex Moody for BBC Comedy.
Published: 12 Feb 2019
Recent Other News
What do you think?