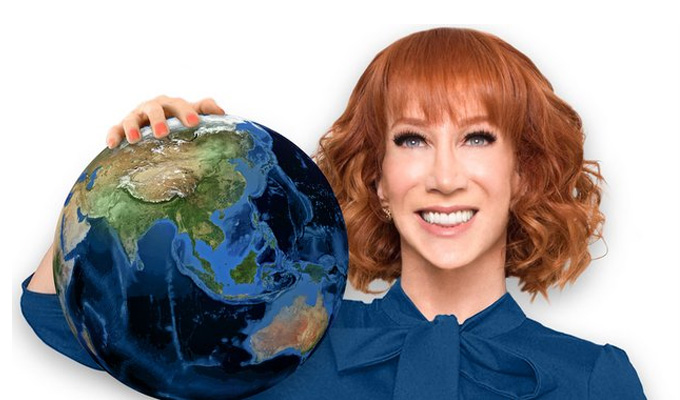 Kathy Griffin named 'comedian of the year'
Kathy Griffin is to be named Comedian of the Year at the first Palm Springs International Comedy Festival in November.
The award comes after the furore over the picture of her holding a mask looking like the severed, bloody head of Donald Trump. She was dropped from broadcast jobs, venues cancelled her tour and was placed under official Justice Department investigation.
Griffin apologised for the image, saying she went too far, but later retracted that apology, and used a doctored version of the picure - above - as her tour artwork.
Palm Springs festival director Paul Cruz said: 'We didn't think long about who should be named Comedian of the Year for the festival's inaugural year.
'It was a no-brainer to honour Kathy Griffin. After all that she's been through, Kathy has pulled off the biggest comeback in entertainment history since Marlon Brando was blacklisted and then went on to win an Oscar in 1972.
'Kathy speaks for all Americans in defence of our First Amendment rights. Kathy is the one comedian that is literally on the minds and mouths of the world. She boldly and bravely spoke truth to power, was blacklisted, harassed and shunned for it, but has now emerged like a fiery phoenix from the ashes. What other comedian can say that?'
The festival runs from November 16 to 18.
Published: 14 Sep 2018
What do you think?