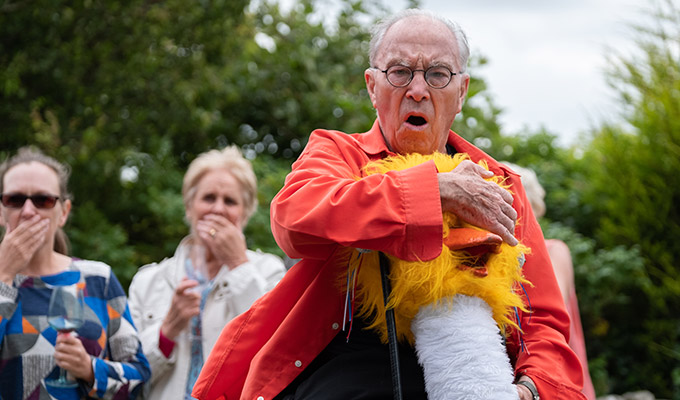 Bernie Clifton writes his autobiography
Bernie Clifton has written his autobiography, at the age of 87
Crackerjack to Vegas promises to tell his story from growing up in wartime St. Helens to being a teenage singer, comedy star performing at the London Palladium and Las Vegas, and running the London marathon on the back of his life-sized ostrich puppet.
Publishers Bannister Publishing say the book explains how Clifton failed as a plumber but made it to Beijing as a trombonist as well as his penchant for practical jokes.
The book – out next week – also includes tributes from Johnny Vegas, Su Pollard, Anita Dobson, Joe Pasquale and Jimmy Cricket.
The publishers call it 'a fascinating and deeply personal account of an eight-decade journey of one of Britain's most cherished entertainers.'
He is still performing, but when asked if there might be a sequel to the memoirs, he quoted Barry Cryer: 'I don't think that far ahead, I'm not even buying green bananas.''
Clifton's first television performance was on The Good Old Days in 1971, and has performed in the Royal Variety Performances of 1979 and 2016.
He made regular appearances on children's game show Crackerjack!, has starred in several pantomimes – and made his Edinburgh Festival Fringe debut in 2006, at the age of 70..
Clifton was a contestant on Series 5 of The Voice UK, applying under his birth name, Bernard Quinn, and in 2018, he starred in ITV's Last Laugh in Vegas, a documentary following eight old-school comics as they prepared a show in Sin City.
More recently, he has appeared in two episodes of Meet The Richardsons, pictured above, where he was seen teaching Jon Richardson how to operate a monkey puppet similar to his ostrich.
• Bernie Clifton: Crackerjack To Vegas is available from Bannister Publishing, priced £12.99.
Published: 20 Nov 2023