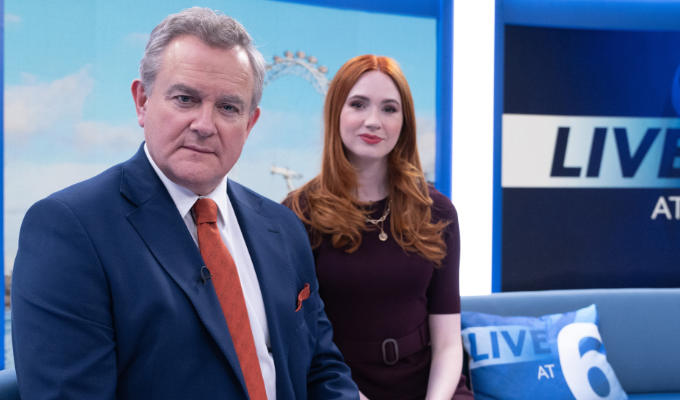 Hugh Bonneville to star in new comedy-drama about cancel culture
Hugh Bonneville is to play a news presenter who finds himself at the sharp end of cancel culture in a new ITV comedy-drama.
The Downton Abbey and W1A star plays the title character in Douglas Is Cancelled with Karen Gillan as his 'sharper, savvier' co-anchor, Madeline.
Douglas is a respected newsreader who makes an ill-advised joke at his cousin's wedding, which a fellow guest threatens to expose on social media, putting his illustrious decades-long career at risk.
The show has been written by former Doctor Who showrunner Steven Moffat and also stars Ben Miles, Alex Kingston, Nick Mohammed and Simon Russell Beale.
Moffat: said: 'It's the kind of cast that makes you terrified about stepping into the room.'
He added: 'I just sat down and wrote this – didn't even tell anyone what I was doing. And now it's all happening, thanks to the amazing Sue Vertue (renowned TV producer and in a rare moment of weakness, my wife).
'I can't quite believe we've managed to get the mighty Hugh Bonneville involved as Douglas and that we've lured my old friend Karen Gillan back from Hollywood, to play Madeline.'
The four-part series is being directed by Ben Palmer – whose credits include Urban Myths, Breeders and The Inbetweeners – for Vertue's production company Hartswood Films.
Bonneville said: 'Working again with a director like Ben, on Steven's acidly witty script, with an ensemble of this calibre, is as daunting as it is exciting.'
And Avengers star Gillan added: 'To torment a man, let alone a man named Douglas, for four episodes - armed with the writing of Steven Moffat - is a great privilege that I'm going to enjoy every minute of.'
Filming on the show – which will premiere on streaming service ITVX - has just begun in London.
According to ITV's description: 'Douglas Is Cancelled introduces us to middle aged, and greying, current affairs news anchor, Douglas Bellowes, a respected broadcaster and raconteur who loves the life he's created with his newspaper editor wife, Sheila.
'While an experienced broadcaster for Live At Six, behind the scenes Douglas surprisingly needs constant reassurance from his sharper, younger, tech savvy, social media aware co-anchor, Madeline, who appears to be able to wrap him around her little finger.
'His life is privileged as he's regarded as a national treasure and apparently, can do no wrong, until he makes an ill-advised joke at his cousin's wedding, which is overheard by a fellow guest, who threatens to expose his comments on social media.
'Speculation is rife and during the on-going hysteria and digital storm, Douglas's alleged indiscretion is dissected, analysed and blown out of all proportion. Everyone appears to have an opinion and Douglas is struggling to escape the controversy.
'It's a chaotic and unmanageable situation, but can Douglas count on the support of his agent and colleagues? What will Douglas do next? Is he a casualty of 'cancel culture'? With 2 million followers, what is Madeline's motivation to social post on Douglas's behalf? Friend or foe? That is the question.'
The series was commissioned by ITV's head of drama, Polly Hill, who said: 'Douglas Is Cancelled is a razor sharp, and insightfully witty drama from Steven Moffat, which takes such a clever look at gender politics, social media and being cancelled.
'I'm really delighted to be working with Steven Moffat and Sue Vertue and the team at Hartswood Films, to bring this wonderfully contemporary story to ITVX. It's testament to Steven's brilliant scripts that it has attracted such an incredible cast.'
Douglas is Cancelled production credits
Made by: Hartswood Films in association with SkyShowtime and BBC Studios Distribution
Written by: Steven Moffat
Director: Ben Palmer
Producer: Lawrence Till
Commissioned by: Polly Hill, ITV's head of drama,
Executive producers: Steven Moffat, Sue Vertue
Thanks for reading. If you find Chortle's coverage of the comedy scene useful or interesting, please consider supporting us with a monthly or one-off ko-fi donation.
Any money you contribute will directly fund more reviews, interviews and features – the sort of in-depth coverage that is increasingly difficult to fund from ever-squeezed advertising income, but which we think the UK's vibrant comedy scene deserves.
Published: 17 Nov 2023