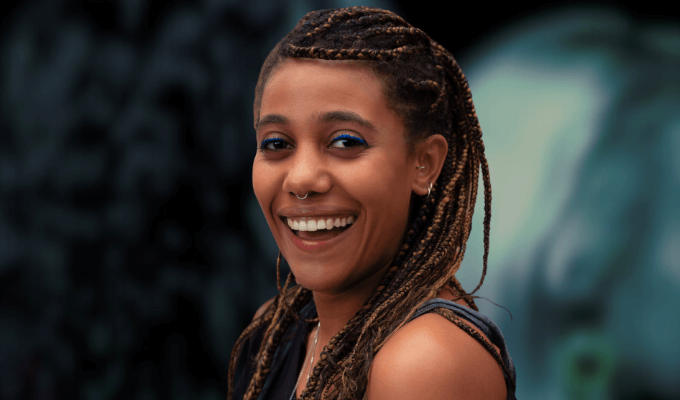 Kate Cheka triumphs in Funny Women stage award
Kate Cheka has won this year's Funny Women award for live comedy.
The stand-up – who started performing while based in Germany before moving to the UK – took the Stage Award at the final at the Bloomsbury Theatre tonight. She wins a prize package including £500 and a content deal with sponsors Next Up Comedy
Hannah Platt came second and Victoria Olsina third.
The rest of the finalists were Blank Peng, Charlie Vero-Martin, Nikola McMurtrie, Rachel Baker, Sascha LO, Su Mi and Tal Davie.
Chloe Partridge won the Comedy Writing Award for her script Welcome to The Avalon, and her prize includes a script session with Sky Studios.
Also nominated was Kate Rawson for her script The Marital Bed and Rosanna Wood's Nice Girls Don't
In the Comedy Shorts Award, Amy Spinks and Lauren Soley won with their short Where's Your Bag?, which will now be screened at the London Short Film Festival
Fellow finalists were Claire Parry's Pitchlash - based on her alter-ego Boorish Trumpson - and Holly Hall's My Coffee Journey: 100 days adding coffee to my diet.
Derry's Serena Terry (@mammybanter) was announced the winner of the Content Creator Award for her Mammy Banter post with Instagram sketch comedian Soph Galustian (@sophgalustian) and Nerine Skinner (@nerineskinner) as runners-up. Skinner is known for her impersonations of Liz Truss.
The Funny Women Comedy Industry Award was won by Sarah Bowles, who helped set up ISH Edinburgh Comedy Awards, set up in response to the potential cancellation of the long-standing Edinburgh Comedy Awards. Sarah-Louise Young and Vix Leyton were also nominated for this award.
All the winners on the talent side receive £500, donated by ITV as part of a £5,000 fund, Afternoon Tea with Jo Brand, a custom Tatty Devine trophy necklace and support and mentorship from Funny Women, with some also getting a photo session with Steve Ullathorne.
The final was hosted by Brand and headlined by Lorna Rose Treen, winner of two awards last year.
Published: 28 Sep 2023