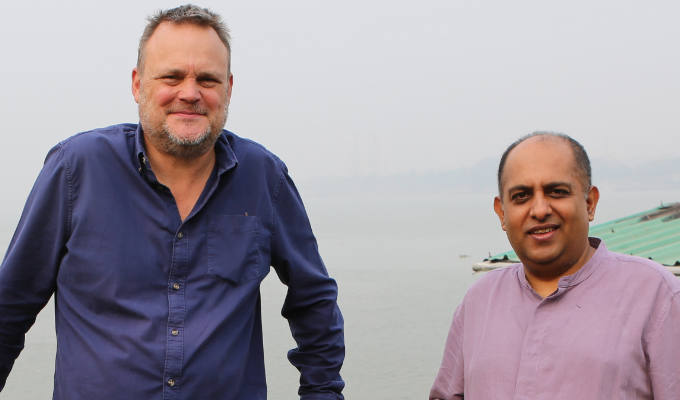 Al Murray investigates the British Empire
Al Murray is making a third documentary series for Sky History, entitled Why Does Everyone Hate the British Empire?
In the four-part show, the Pub Landlord creator will visit four countries the British colonised and talk to local comedians about the impact and legacy of British rule
In India, he will be joined by Anuvab Pal (both are pictured above at Mullick Ghat market on the banks of the Hooghly River, Kolkata); in Jamaica, by Chris Daley; in South Africa by Loyiso Gola; and in Australia, by Aboriginal comedian Kevin Kropinyeri.
Murray said: 'This is a debate that is ongoing and becoming more and more heated. The history demands exploration, the legacy assessment.
'I've been lucky enough to go all over the world to take a look for myself, find out what legacy remains and, most importantly, how it figures in the lives of people in Britain's former colonies. Is this a story with a happy ending or is it not yet over?'
The show follows Murray's previous programmes Why Does Everyone Hate the English? in 2018 and Why Do the British Win Every War? in 2020.
Dan Korn, who commissioned the series from programme-makers Avalon and Motion Content Group, said: 'As the country views its history through the eyes of a new generation, with new sensibilities and perspectives, who better than Al Murray, The Pub Landlord and Sky History to examine what remains the most controversial, debated and obscured part of our nation's history; the British Empire.'
Jay Taylor, executive producer for Avalon, added: 'There is no better person than Al to explore the hot topic of the British Empire, his blend of humour with historical insight means his discoveries are always fascinating.'
Al Murray: Why Does Everyone Hate the British Empire? is set to air in the UK on Sky History and on The History Channel across much of Europe this autumn, followed by broadcast in the Netherlands and Belgium next year.
Published: 19 Sep 2023