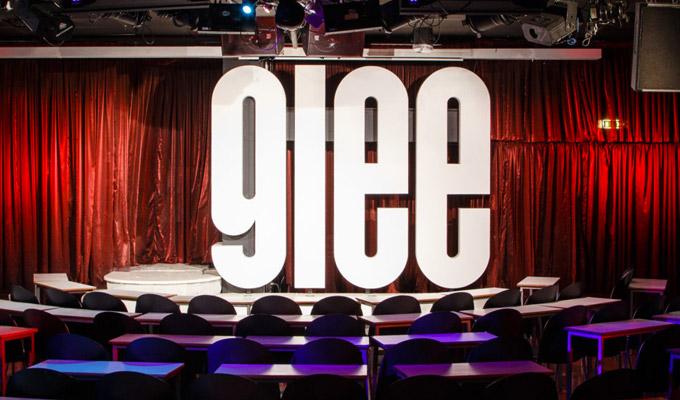 Cardiff's Glee Club 'could close' amid union dispute
Cardiff's Glee comedy club may close down after more than 20 years amid an increasingly bitter dispute with trade unions.
Workers at the venue have secured union recognition following a fight by Unite, which has hailed the move a 'victory for the workers', after accusing the company of a 'relentless union-busting agenda.'
But the Glee's management say they are disappointed with the decision, claiming the union had been issuing 'lies' and 'hysterical claims' against them.
Chief executive Mark Tughan told Chortle he was now considering giving up the venue in the face of the row, saying: 'We simply will not continue under this toxicity. It's bullying, pure and simple.'
Union recognition means workers will be covered by a collective agreement, so Unite can negotiate with venue bosses on workers' pay and other terms and conditions of employment en masse.
As Chortle has previously reported, some staff at the Cardiff Bay club first attempted to unionise earlier this year after raising complaints, including health and safety concerns and anger at the cancellation of shifts at short notice, including when comedians pulled tour shows and on the night the Queen died.
Unite had claimed its members were threatened with disciplinary action and even dismissal for trying to drum up support for the union, calling it 'blatant trade union victimisation'. They also say a member was demoted, leading to a 10 per cent pay cut.
Allegations that activists are being targeted are denied by Glee's owners, Comic Enterprises Ltd.
Unions are recognised in a workplace if the majority of workers belong to one – although the numbers were under dispute at the Glee, which employs around 35 people. So Unite took the case to the government's Central Arbitration Committee, which last week ruled that there was enough support.
Unite General Secretary Sharon Graham said: 'This is a fantastic victory for the workers at the Glee Club Cardiff. They have stood strong, and as a result, have secured official union recognition.
And Unite industrial officer Michaela Gilroy added: 'We are delighted that we have secured this victory for Glee Club workers.
'This has been a long campaign for workers' rights but the hard work has paid off. Terms and conditions in the hospitality sector are notoriously bad, so union recognition will give Unite the opportunity to change that for these workers.
'We are now seeking urgent constructive talks with the Glee Club to agree the terms of the official recognition agreement.'
But Tughan said: 'We are disappointed this was imposed without both a fair debate or a ballot. We asked for these and Unite refused point-blank.
'When we tried to speak to staff, we were silenced with hysterical claims of "union busting". Thus the staff there only got one side of an important debate. This, we think the process was unfair as the question was never put to the staff transparently and with a free exchange of views.
'We have been the subject of some very serious and defamatory accusations by Unite, including claims that we have fired staff because of union activity. This is palpably untrue and we are considering what action to take, including legal action, to ensure these lies are called out.
'Given the fact that we have imminent break clauses in our lease, and significant interest from alternative occupiers in our unit, we are considering our options, including consensual early surrender on the lease.
'There is literally no amount of profit that can possibly compensate for the kind of nastiness and lies that I and my team are currently enduring. I'm an entrepreneur, and I'm only too happy to move on.
'I think we're a good employer. We pay well above even the real living wage and in 29 years in the business, we've had not one employment dispute or tribunal. And none of our workers lost their jobs in the pandemic.'
Unite pointed out that union recognition came from a government body, which decided a ballot was not necessary as arbitrators agreed with its assertion that more than half of Glee's workers were already members, so a vote was not necessary.
A Unite spokesperson added: 'To suggest management were "silenced" by the union is clearly nonsense. Glee management held several staff meetings to try and discourage workers from pursuing union recognition on-site.
'Management has clearly communicated with staff freely throughout this process. Despite pressure from management, workers have made their views clear by standing strong and remaining as members of Unite. Glee management were unable to present any credible evidence to the Central Arbitration Committee that workers did not support recognition.

'The CAC have made their decision and it is now time for the Glee Club to move on and accept this. They need to ditch the rhetoric and work with Unite to build a positive workplace environment where their workers feel respected and valued.'
Tughan opened the first Glee Club in Birmingham in 1994, becoming the first dedicated UK comedy club outside London. The Cardiff venue followed in 2001, with sites Nottingham, Glasgow and Oxford added later. The dispute does not involve any of the Glee's other venues.
Thanks for reading. If you find Chortle's coverage of the comedy scene useful or interesting, please consider supporting us with a monthly or one-off ko-fi donation.
Any money you contribute will directly fund more reviews, interviews and features – the sort of in-depth coverage that is increasingly difficult to fund from ever-squeezed advertising income, but which we think the UK's vibrant comedy scene deserves.
Published: 18 Jul 2023