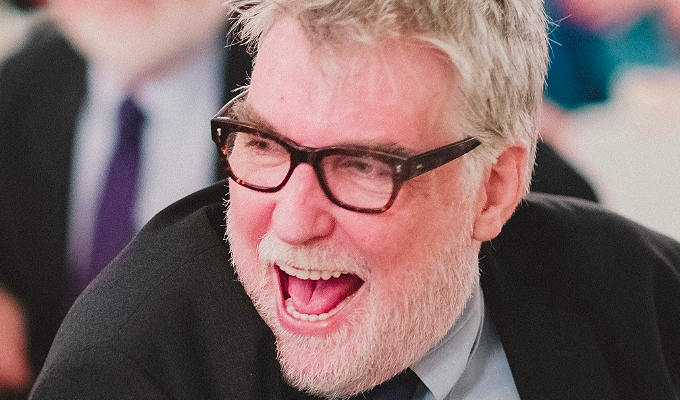 New award becomes the most valuable prize in UK comedy
Edinburgh's newest comedy award has just become the most valuable prize in live comedy
The David Johnson Emerging Talent Award will present £11,000 to its winner – £1,000 more than the main prize at the long-established Edinburgh Comedy Award.
To be known as the DJ ETA, the new accolade has been set up in memory of larger-than-life producer extraordinaire David Johnson, who died in late 2020.
Known for his love of committed off-kilter performers, he championed the likes of Puppetry of the Penis, The Rubberbandits, Fascinating Aida, and Kim Noble. He also produced tours and shows Stewart Lee, Alexei Sayle, and Sandi Toksvig among many others.
A team of scouts led by arts and culture journalist Helen Hawkins will seek out the sort of acts that might have appealed to Johnson's tastes during the first three weeks of the Fringe, with the winner announced on August 28.
Organisers say there will be 'no strings attached' for the winner and 'no painful shortlist for contestants to wait days in torment while humourless judges decide whether they're a winner or a runner-up'.
The award is being run by Johnson's business partner John Mackay and publicist Sally Homer.
In an email to those who backed the fund, she said: 'As John and I have prepared for the Fringe we have missed DJ terribly.
'Behind that reckless positivity and festival bonhomie was his precise and strategic producer's eye and a highly developed sense of fairness.
'Given the scandalous economic barriers that performers face even getting to the fringe this year - including the almost doubling of accommodation costs - we have to wonder whether the Edinburgh Festival Fringe will continue to be the cauldron of new talent that it has always been.
'But here we are, amid the wreckage left by Covid, Brexit, Boris et al, mustering as much of David's fury, joy, impatience, humour and heart as we can to help us find the brightest and best.'
The winner will be announced at a gig at Assembly George Square on August 28, featuring Stewart Lee and Dillie Keane, as well as many of the up-and-coming acts identified by the scouts. Tickets are available here.
At a memorial gig in November, Lee spoke of Johnson's 'genuine concern for his coterie of misfit acts', while at the time of his death, at the age of 60, comic Dave Johns said: 'Edinburgh will be a little less shiny and a lot less fun without this lovely man'.
Fundraising to support the new award continues here.
The British Comedian Of The Year competition has previously outdone the Edinburgh Comedy Award by handing out a £10,001 prize.
» Tributes from Stewart Lee, Sue Perkins and more as comedy producer David Johnson dies at 60
» Cream of the comedy and theatre worlds bid a fond farewell to producer David Johnson
Published: 3 Aug 2022
What do you think?