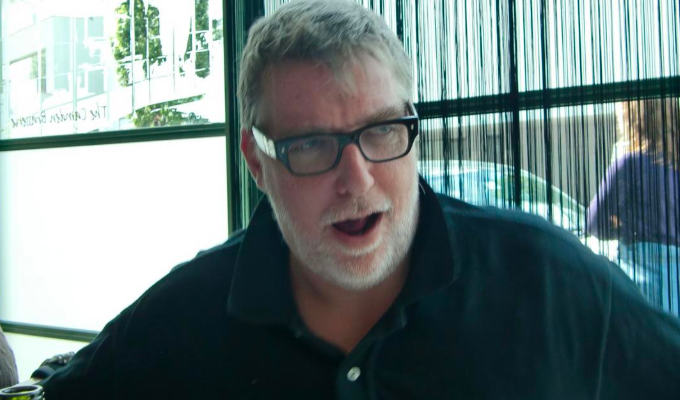 'He didn't believe in being boring'
He was 'recklessly generous' and 'generously reckless' – a mischievous, maverick comedy and theatre impresario and tireless bon viveur who lived a life of joyful decadence n the haunts of Soho
Although only 60 when he died last December, the ebullient David Johnson – who was remembered at a poignant and often hilarious memorial yesterday – seemed to be from a different, more bohemian era.
The Soho Theatre was filled with fond anecdotes of this larger-than-life figure holding court with his waspish wit; of how he championed the most unusual and original performers; and of his often blunt-talking approach to professional matters.
He was 'the sort of character you read about in post-war novels but never expected to meet' said Stewart Lee, as he led the heartfelt – and gloriously expletive-ridden – tributes to the man who was his producer and friend.
'David didn't believe in being boring,' Lee added. 'Even when he was asleep. Because in the small hours everyone else would be up dealing with the fallout from an email he sent. His send button was like the detonator on Wile E Coyote's dynamite.
'He was more interesting unconscious than most people are when they are awake.'
Lee told how DJ, as he was often known, had a 'genuine concern for his coterie of misfit acts' and made his own stand-up shows profitable after 17 years with a corporate promoter. 'I owe him everything,' Lee said. 'I would have given up if it wasn't for him.'
'This will come as a shock to you,' he added. 'But in private he did, in fact, subscribe to the maxim "everything in moderation".'
But then the punchline: it was only the first part – the 'everything' - he adhered to, not the 'in moderation'.
In a revelatory anecdote, Lee recalled how the gay Johnson once told him, 'so casually as if it had no significance' that he had once had sex with Nico, the model and Fellini star who became the muse and lover of so many countercultural icons including Andy Warhol, Jim Morrison, Lou Read and Iggy Pop.
After what he described as a disappointing one-night stand, Johnson concluded: 'I never developed a taste for that sort of thing'
It was a story that, Lee said, made Johnson perhaps the most successful – if unlikely – heterosexual in history, since 100 per cent of the women he slept with were stunningly beautiful icons.
Also among those paying tribute was the comedian Shenoah Allen, best known for his Pajama Men double act, who started his tribute with the line: 'David was the wettest kisser I've ever known.'
He returned to Johnson's emails, sharing a message of magnificently constructed expletives that he sent to a theatre about a fraudster who had been employed – and subsequently fired – without his knowledge.
Later, Sue Perkins – another comedian he produced – shared an hilarious Wikipedia entry Johnson made up about the fictional seventh Mitford sister, Anastasia, to the delight of an audience that included Stephen Fry, Kathy Lette and the cream of the theatre industry.
Paul Soileau offered a eulogy in the form of his country singer alter-ego Christeene, speaking of how Johnson was 'a force of theatrical nature' washing up the miscreants, and concluding: 'Hope you're there in the other realm, making them piss their pants with joy.'
Music was provided by others he produced: Fascinating Aida, Lee's Jerry Springer: The Opera collaborator Richard Thomas and opera singer Lori Lixenberg, and the Rubberbandits singing a raucous version of their provocatively stupid song Up The Ra.
Readings came from playwright and actor Mark Ravenshill, who read from the children's novel The Swish Of the Curtain, writer Piers Torday with a passage from Brideshead Revisited and a poet Josa Keys.
Producers Adam Kenwright and Mark Goucher also shared stories and praised the way Johnson acted a 'Belisha beacon for the indie producer' against the corporate giants of the entertainment world.
The camaraderie among impresarios was not universal, however, as Johnson's production partner John Mackay took to the stage to invite the audience to, en masse, text the C-bomb to a former collaborator. Revenge from beyond the grave as his mobile number appeared on screen.
Delicious joke over, Mackay spoke tenderly about how his partner was 'careless of his mortality… he did what made him happy - as long as it didn't make anyone else unhappy – and was unperturbed by thoughts of self-preservation'.
Then another suitably theatrical twist as Mackay revealed the memorial had been exactly as Johnson himself had planned, producing to the end… and even after it.
As he led the room in an emotional rendition of Edelweiss, there was barely a dry ice in the house.
»Tributes from the time of David Johnson's death
»Guardian obituary by Mark Ravenhill
Published: 26 Nov 2021
What do you think?