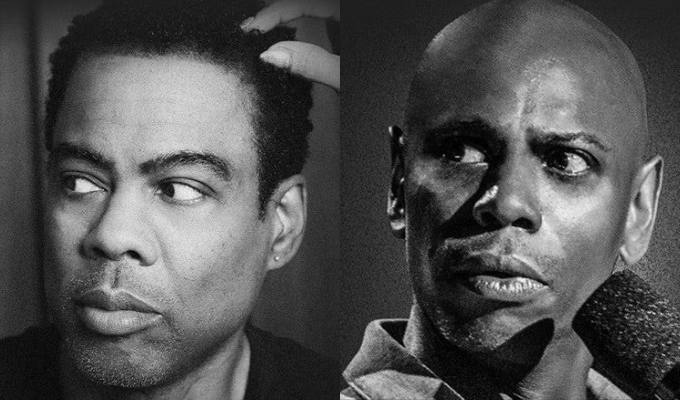 Dave Chappelle and Chris Rock announce double headliner show
Dave Chappelle and Chris Rock have announced a co-headlining show in London this autumn.
The pair – both of whom have been attacked on stage this year – will play The O2 Arena on September 3.
Rock was in London just last month when he played the Royal Albert Hall – but made only passing reference to the Oscars when Will Smith slapped him for making a joke about his wife Jada Pinkett Smith's hair loss.
Last week Jada called on the two men to settle their differences, saying: '<y deepest hope is that these two intelligent, capable men have an opportunity to heal, talk this out and reconcile," she added. "The state of the world today, we need them both.
But a source told Amerca's ET: '[Rock] is not concerned with the Smiths at the moment. He's touring and he's preparing for a comedy special.'
Rock has recently wrapped production on the biopic, Rustin, about civil rights leader Bayard Rustin, and Amsterdam, David O'Russell's period drama about a 1930s murder co-starring Christian Bale, Margot Robbie and Robert De Nieo.
Chappelle was attacked on stage at the Netflix Is A Joke festival in Los Angeles in May, and last week Isaiah Lee last week appeared in court in connection with the ambush. He previously told reporters he was triggered by the comedian's material targetting trans women.
Lee,23 plead not guilty to four misdemeanour charges linked to the attack: battery, possession of a weapon with intent to assault, unauthorised access to the stage area during a performance and commission of an act that delays the event or interferes with the performer.
He has also denied attempted murder charges of stabbing his roommate in December at a facility primarily used by the homeless. The Los Angeles district attorney, George Gascon, has said the publicity surrounding the Chappelle incident with helping the victim identify his alleged attacker.
Tickets for the Chappelle/Rock double headliner – produced by Live Nation – go on sale 10am on Friday.
Published: 7 Jun 2022
What do you think?