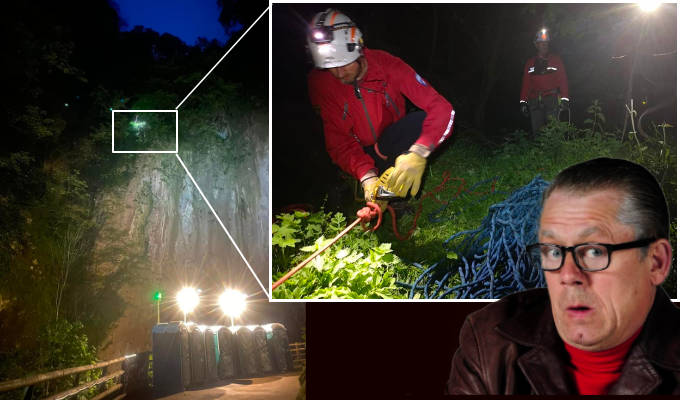 Mountain rescuers save John Shuttleworth fan
John Shuttleworth's gig in a Peak District cavern turned into a drama last night, after a punter almost plunged 100ft into the cave entrance.
The man slipped from a footpath above Peak Cavern – also known as the Devil's Arse – but managed to save himself by clinging on to a tree.
Mountain rescuers were called and successfully saved him, and he escaped only with cuts and bruises.
However, the second half of Shuttleworth's gig was abandoned – and will now be rescheduled for a later date.
The man was apparently following his GPS when he got lost en route to the show just before 9pm last night.
Edale Mountain Rescue posted on Facebook that the man 'had followed his sat nav while walking from his overnight accommodation to the cavern. However [he] somehow managed to end up on a footpath above the cavern.
'He came into extreme difficulties and slipped, just managing to catch a tree to arrest his fall, inches from a 100ft drop to the cavern floor.
'Unfortunately the concert had to be cancelled, and people had to be evacuated from the area due to the danger of rocks being dislodged on to the concert goers below.
'Team members made their way to the top and quickly rigged up a technical rope rescue system. Once this was all in place, a team member was lowered down to the gentleman's position, where he was secured into a rescue nappy. The gentleman had suffered a cut and some bruising above one of his eyes, other than that he seemed fit and well.
'The team hauled both the rescuer and the gentleman back up to the crag top, where he was handed over to an HART [Hazardous Area Response Team] paramedic for further assessment. The gentleman did not need further hospital treatment and was given a lift back to his accommodation'.
The rescue took a little over two hours.
Shuttleworth tweeted: 'We wish him well, and to my lovely Peak Cavern audience - thank you for evacuating so swiftly, and see you soon for the 2nd half!'
The comic creation of Graham Fellows was the first comedian to play a full show at the Devil's Arse, which was mentioned by philosopher Thomas Hobbes in the 17th Century and Daniel Defoe in the 18th.
Its name possibly came from the flatulent-sounding noises that come from inside the cave when flood water is draining away.
However it was changed to Peak Cavern in 1880 so as not to offend Queen Victoria when she paid a visit.
The attraction has the largest cave entrance in the UK, and for several years has set up a stage there, which has played host to the likes of Jarvis Cocker, Richard Hawley and The Vaccines.
Jason Manford previously hosted a Sky Arts Christmas Special music event from the site.
Published: 20 May 2022
What do you think?