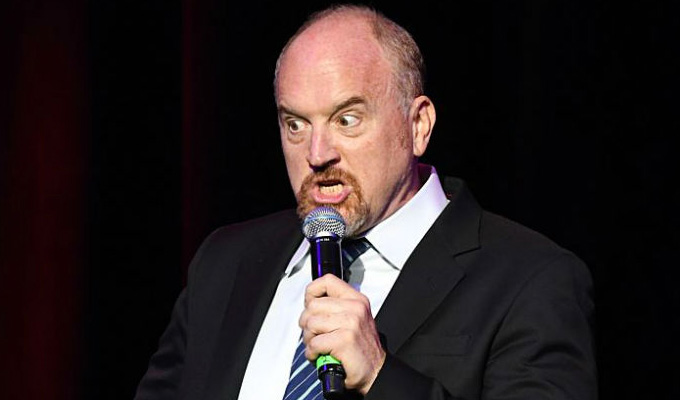 Louis CK set for his first UK dates since he was outed as a sex pest
Louis CK has announced his first UK shows since he admitted to sexual misconduct.
The US comic will play the Hammersmith Apollo and Wembley Arena on October 3 and 4 respectively, then the Hydro Arena in Glasgow on October 6.
In an email to fans, he said: 'I will likely add more shows in the area when I'm in the UK in October. I will let you know.'
CK previously announced two British shows in 2019 – but they were cancelled within 24 hours after sparking a storm of protest.
Then he was scheduled to play gigs at the two House Of Fun comedy clubs in Leeds, but at the time promoter Toby Jones told Chortle: 'The sheer amount of hatred from both the industry and members of the public made running the shows utterly untenable.'
CK admitted several instances of sexual misconduct in 2017 after several female comedians came forward with their stories of him masturbating in front of them.
The revelations cost him the release of his movie I Love You, Daddy and his deals with FX Networks and Netflix. However, after taking a year away from the stage, he has continued to perform stand-up and has released two specials through his website.
Some appearances have been met with protest – and after leaks of work-in-progress routines prompted more outrage, CK threatened audiences with legal action if they repeat any of his material without his 'express prior written consent'.
Last month his stand-up special Sincerely was named best comedy album at the Grammy awards, sparking a major backlash.
After his win, comic Julia Wolov, who helped break the story when she revealed CK had masturbated in front of her, told Variety: 'There has been zero change in the way comedy is run. Nobody cares. That's the message this sends. It really does. That's the truth.'
In his new email, also announcing shows in continental Europe in the summer, he said: 'I am very excited for all of these shows. And I hope you can make it, whoever you are.'
Published: 18 May 2022
What do you think?