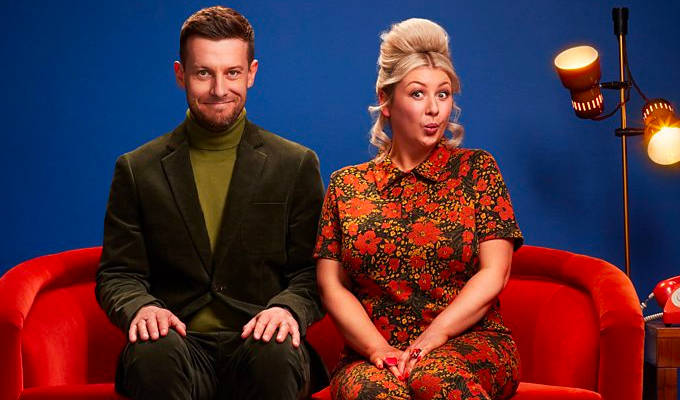 Ramseys' treat
Here's our pick of the best comedy programmes on TV, radio and on demand this week.
Sunday May 15
LOVECRAFT (NOT THE SEX SHOP IN CARDIFF): This stand-up special from Welsh comic and musician Carys Eleri looks at the neuroscience of love and loneliness. Radio 4, 7.15pm
BRUNO: Sacha Baron Cohen's film lands on Amazon's newly rebranded free-to-view, advertiser-supported on-demand service, Freevee.
Monday May 16
THE CHRIS & ROSIE RAMSEY SHOW: Following the success of their it podcast Sh**ged.Married.Annoyed, husband and wife Chris and Rosie Ramsey host a new show in which they are joined by another celebrity couple to examine relationships… including the question they always ask on the podcast: What's Your Beef? BBC Two, 9pm
COMEDIANS GIVING LECTURES: Mat Ewins on The Challenges Facing Western Democracies In The 21st Century, Sara Barron on Measuring What Makes Life Worthwhile and Reginald D Hunter On the Origin of Stereotypes Dave 10pm
Tuesday May 17
KATT WILLIAMS: WORLD WAR III: The US comic breaks down conspiracy theories in his first Netflix special in four years. It was filmed at the Dolby Live Theater in Las Vegas in January.
Wednesday May 18
INSIDE NO 9: In tonight's episode, Shane and Clifford (Danny Mays and Jason Isaacs) have a plan to abduct the wife of a wealthy hedge fund manager. If he won't pay, they'll snip her ears off to prove they mean business…. BBC Two, 10pm
DERRY GIRLS: Lisa McGee's award-winning comedy bows out with a special extended episode - which moves the clock one year forward as the gang prepare for their final year of school. It's the week of the referendum on the Good Friday Agreement, but its timing couldn't be any worse, as the highlight of the year, Erin (Saoirse-Monica Jackson) and Orla's (Louisa Harland) joint 18th birthday party, threatens to be overshadowed… Channel 4. 9pm
SPREADSHEET: This Australian comedy starring Katherine Parkinson makes its way to these shores. The IT Crowd star plays Lauren, a divorced mother of two and working lawyer who is looking for sex without commitment With the help of best friend Alex (Rowan Witt), she develops the spreadsheet listing her partners, rated and customised to ensure variety and order amid the chaos of her life.Channel 4. 10.05pm
HYPOTHETICAL: Josh Widdicombe and James Acaster are back for a fourth series of their show, this week asking Richard Ayoade, Guz Khan, Maisie Adam and Chloe Petts how they would cope with various theoretical situations. The hosts discuss the show here. Dave, 10pm
SUNIL PATEL: AN IDIOT'S GUIDE TO CRYPTOCURRENCY: Normally there would be few social conversations worse than a bloke banging on about crypto… but you should be in safer hands with comedian Sunil Patel. In this series he attempts to live off cryptocurrency alone. And it features Christopher Biggins. Radio 4, 11pm
Thursday May 19
THE G WORD WITH ADAM CONOVER: A hybrid comedy-documentary series from the comic behind Adam Ruins Everything promises to look into the pros and cons of the US government. Out today on Netflix
DMs ARE OPEN: Radio 4's new open-door comedy show, created from submissions from any would-be writer, launches. Hosted by Athena Kugblenu and Ali Official, the show is a mixture of sketch, one-liners, 'voice notes' and characters. Radio 4 Extra, 10.30pm
Friday May 20
HAVE I GOT NEWS FOR YOU: Adil Ray hosts with presenter James May and MP Jess Phillips. BBC One, 9pm
REV: The comedy starring Tom Hollander (who also co-wrote it with James Wood) and Olivia Colman about the misadventures of an Anglican vicar, his wife, and a small but odd group of parishioners in London arrives on the Drama channel for a repeat run, from the very start. Drama, 9pm
MY NEXT GUEST NEEDS NO INTRODUCTION WITH DAVID LETTERMAN: The chat show legend releases a series of new conversations with Ryan Reynolds, Kevin Durrant, Will Smith, and Julia Louis-Dreyfus on Netflix JACKASS 4.5: The latest prank movie in the series lands on Netflix, with some additional material.
Saturday May 21
POINTLESS CELEBRITIES: A new series kicks off with a comedians' special featuring Olga Koch, Chloe Petts, Arabella Weir, Jon Culshaw, Ted Robbins, Justin Moorhouse, Neil Delamere and Loyiso Gola. BBC One, 8pm
Published: 15 May 2022
What do you think?