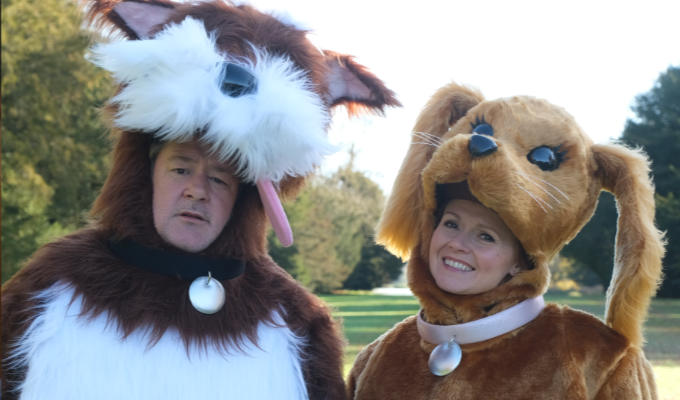 Murder, They Hope gets a second series
Comedy channel Gold has ordered a second series of Murder, They Hope with Johnny Vegas and Sian Gibson.
The stars will reprise their roles as Terry and Gemma for three more hour-long episodes later this year, again written by comic Jason Cook.
He said: 'It's such a joy to be able to take Terry and Gemma on another series of journeys into the word we have created for them. The reaction from the public has been incredibly heartwarming and I'm so happy that UKTV are allowing us to keep telling their stories.'
The characters were introduced as a coach driver and tour guide in the feature-length one-off Murder on the Blackpool Express – a star-studded affair which attracted 1.8 million viewers during its first week of airing in 2017.
It was followed with Death on the Tyne and Dial M for Middlesbrough, and last year was turned into the series Murder, They Hope, with Terry and Gemma having set up a private detective agency.
Pete Thornton, head of scripted for Gold's parent company UKTV, said: 'It feels like a rare thing to have a comedy that lasts for more than a few years nowadays on British TV, so to be back in business with the brilliant team behind Murder, They Hope… Hats off to all involved – we can't wait to see whodunit next.'
Gold's channel controller Gerald Casey added: 'Jason Cook's brilliantly hilarious murder mysteries have become a true mainstay of the Gold channel. I can't wait to see Sian and Johnny back together as TV's funniest crime-solving duo.'
According to the broadcaster, series two – which will be directed by Ed Bye– 'picks up where we left off and promises church bells, couples therapy, aristocratic mystery and a framing like no other'.
The show is made by Shiny Button, where the executive producers are Mollie Freedman Berthoud and Andy Brereton, with series producer is Andy Harvey
Published: 13 May 2022
What do you think?