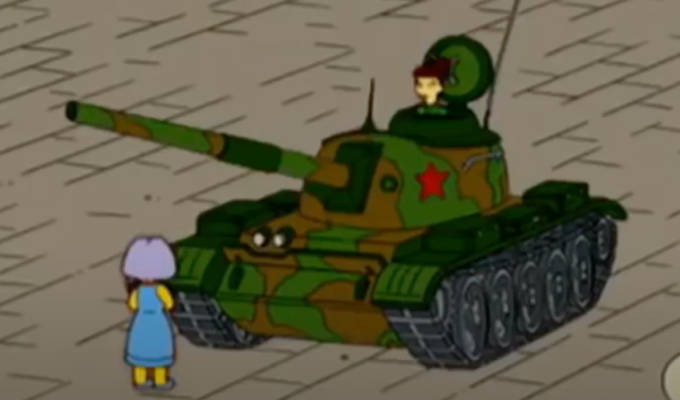 Censored: Simpsons Tiananmen Square episode
An episode of the Simpsons in which the cartoon American family visit Tiananmen Square has reportedly been censored in Hong Kong.
The apparent censorship adds to fears of Beijing's growing clampdown on dissent in the former British province.
In the episode Goo Goo Gai Pan, which first aired in the US in 2005, the family visit China as Marge's sister Selma tries to adopt an orphan.
But it is absent from the version of the Disney+ streaming service that launched in Hong Kong this month, local media reports, even though other episodes are.
In the episode, The Simpsons enter Tiananmen Square in Beijing, passing a sign which says: 'On this site, in 1989, nothing happened' – an acknowledgment of how the Chinese regime suppresses reports of the crackdown against democracy protesters that claimed hundreds of lives.
Then a tank arrives to take Selma's baby back off her, in an echo of the most potent photograph from the protest.
The family also visit Chairman Mao's mausoleum, where Homer says of the dictator: 'Look at him sleeping. He's like a little angel that killed 50million people.'
It is not clear whether Disney+ removed the episode or was ordered to – and the entertainment giant has not yet commented on the story.
Published: 29 Nov 2021
What do you think?