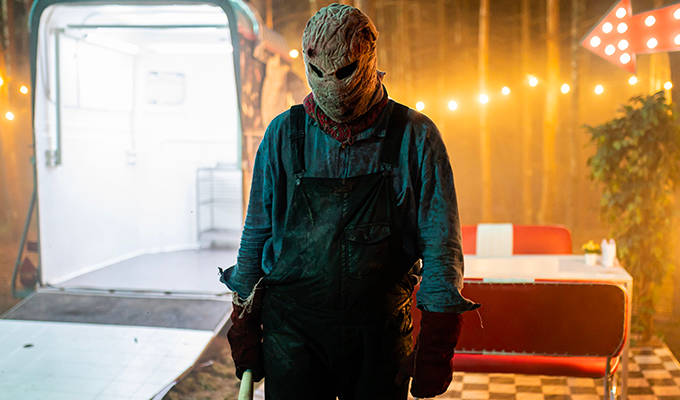 Killer Camp's back to slay you...
Here's our pick of the best comedy programmes on TV, radio and on-demand this week:
Monday November 29
KILLER CAMP: Stand-up Bobby Mair returns to host the reality show in which contestants have to unearth the serial killer among them… before they get bumped off in a comically extreme way with the aid of Bruce The Handiman. The show is stripped across the same time slot every day this week. ITV2, 10pm
RICHARD OSMAN'S HOUSE OF GAMES:This week comedians Jessie Cave and Ayesha Hazarika take on Simon Hickson (of Trevor and Simon fame) and dancer AJ Pritchard. BBC Two, 6.30pm
THE MUSICAL LIFE OF…The musical sitcom returns for a third series to reveal the untold stories (with some artistic licence) of Wales's greatest men and women. In this series Paralympian Tanni Grey-Thompson, Welsh pirate Black Bart, footballer Neville Southall and the wizard Merlin receive the Musical Life Of… treatment. BBC Radio Wales, 6.30pm
Tuesday November 30
BRITNEY: A pilot episode of a comedy-drama based on two young friends … and a brain tumour. Writer Charly Clive andco-star Ellen Robertson first performed a two-woman sketch show based around these ideas at the 2016 Edinburgh Fringe. Now the TV incarnation drops on BBC Three. From 6am
LIVE FROM ABERYSTWYTH PIER: Kiri Pritchard-McLean introduces stand-up from Chloe Petts, Esyllt Sears, Carys Eleri and Tudur Owen recorded at this year's Aberystwyth Comedy Festival. BBC One Wales, 10.35pm
QUESTION TEAM: Joining Richard Ayoade are Sara Pascoe, Darren Harriott, Jessica Knappett and special guest Isy Suttie Dave 10pm
Wednesday December 1
LIVE AT THE APOLLO: Larry Dean introduces Harriet Kemsley and Slim to the stage. BBC Two, 10pm
COMEDIANS GIVING LECTURES: Sara Pascoe introduces Henning Wehn on 'Should We Trust The Scientists?', Erika Ehler on 'Is Humanity Naturally Good?' and JoeThomas going above and beyond to deliver 'The History of Hair' Dave, 9pm
THIS WAY UP: Aisling Bea's Channel 4 series about an Irish-Catholic woman recovering from a nervous breakdown arrives on Netflix.
Thursday December 2
CANCELLED: Jimmy Carr is one of those talking to presenter Richard Bacon in this documentary about 'cancel culture' speaking to those who have been publicly shunned and asking if free speech is genuinely under threat? Channel 4, 10pm
Friday December 3
HAVE I GOT NEWS FOR YOU: Clive Myrie hosts with Camilla Long and Miles Jupp as the guests. BBC One, 9.30pm
Saturday December 4
THE JONATHAN ROSS SHOW: Rob Brydon is among the guests. ITV, 10.20pm
Published: 28 Nov 2021
What do you think?