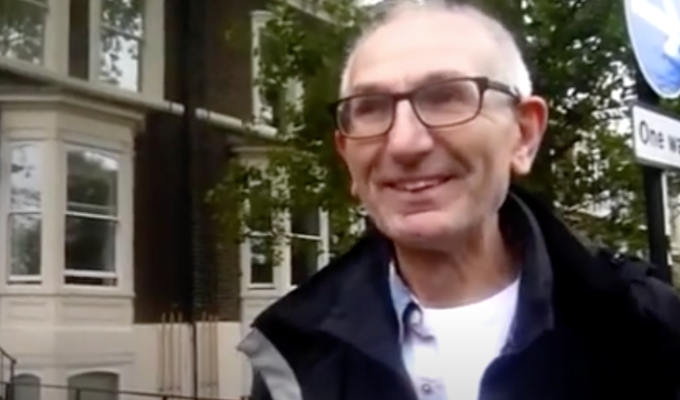 Comic Reg Anderson dies of kidney cancer
Reg Anderson, a stalwart of the Scottish comedy circuit, has died after being diagnosed with kidney cancer.
The comic was one of the pioneers of the Edinburgh comedy scene in the 1990s and was one of the first acts to play at the Stand when it opened in 1995.
Anderson's real name was Gavin Stott, and he grew up in Sunderland. He was also a singer-songwriter and performed a prop comedy act under the nickname Reg Voodoo Anderson.
His niece Jane Duggan wrote on Facebook: 'It's with a sad and heavy heart that I bring the news that Gavin sadly put peacefully passed away this morning he will be sorely missed'.
And friend Leighton Calvert confirmed he died at 12.30pm today at St. Columba's Hospice in Edinburgh, two weeks after he was diagnosed with the inoperable disease.
In a touching tribute, he wrote that Anderson was 'one of the great characters on the scene, working with many of the big names, even, at one point, doing an art exhibition with Johnny Vegas'.
'He was performing stand-up right until lockdown hit in 2020. From his Reg Voodoo Anderson act, with leopardskin suitcase and Linda Blair spinning head, to his more recent prop free progression into rants about Lionel Ritchie's various business ventures, once seen, never forgotten…
'The acceptance and bravery of his fate is something that will stay with me forever. He told me many times he didn't fear death.'
After his diagnosis, Anferson told Calvert: 'I have had the pleasure of meeting some lovely people. To those I loved in the music and comedy business, I shall treasure the good laughs and great times. Especially when me and Bill Dewar had to share the honeymoon suite in Auchtermunchty.'
Among those paying tribute online this afternoon was comic Stu Murphy, who posted: 'RIP Reg Anderson - A true gentleman and legendary stalwart of the Scottish comedy scene. You will be much missed, my friend.'
Here is Anderson in action.
And here's a film he made in about the time he was arrested in front of his parents in Sunderland in 1972 for taking LSD.
Published: 26 Oct 2021
What do you think?