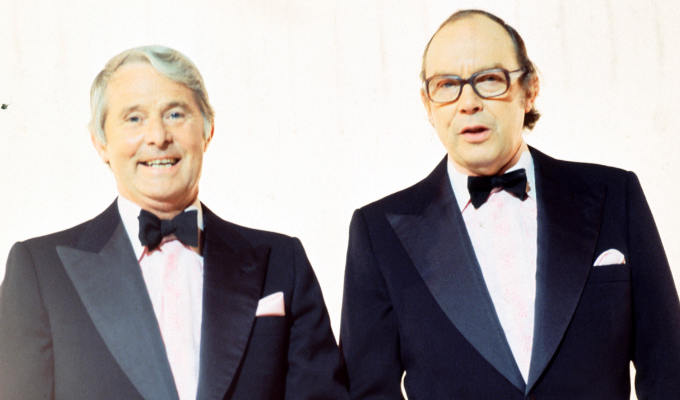 Morecambe and Wise's last shows to be released on DVD
The last TV shows Eric Morecambe & Ernie Wise ever made are to be released on DVD.
Network Distributing is to release the four series and seven specials they made for Thames Television from 1978 to 1983. The conclude with the 1983 Christmas special, which aired five months before Eric died at the age of 58.
The new release means all Eric and Ernie's surviving shows are available on DVD except for three recently recovered episodes from their time at the BBC.
The Thames episode are to be released as a six-disc box set on November 29 with an rrp of £39.99 (available for £24.99 from Amazon).
An even bigger box set of 14 discs covering all their work at ITV is to be released at the same time. This includes the Thames shows, plus the ATV series Two Of A Kind, which launched them into the big time.
They made 67 episodes for ATV from 1961 to 1968, when they were poached by the BBC, of which 48 survive, and which were previously released by Network.
The full Morecambe and Wise at ITV collection is priced £79.99 (but £54.99 at Amazon). It also includes the duo's 1961 Royal Variety Performance, several appearances on Val Parnell variety shows and two episodes of Piccadilly Palace, the US version of their ATV show.
Network Distributing is also releasing the six ITV Christmas specials, featuring guests stars including Ralph Richardson, Alex Guinness, Glenda Jackson, Derek Jacobi and more, as a two-disc set for £17.99 (£9.99 from Amazon)
Published: 19 Oct 2021
What do you think?