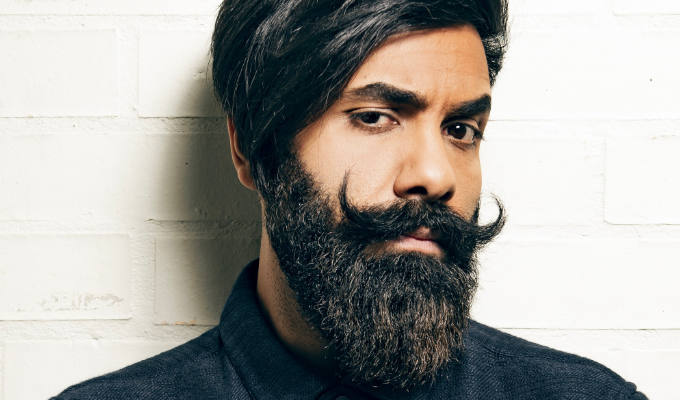 Paul Chowdhry goes on tour
The best of the week's live comedy. Use Chortle's search panel to check out our full listings of 5,776 events by date and region.
Sunday October 17
EDINBURGH: After opening his Back encore tour in Aberdeen last night, Tim Minchin continues with his collection of 'old songs, new songs and f*** you songs' at the Edinburgh Festival Theatre. Tim Minchin tour dates.
NEWCASTLE: The second day of the comedy weekender at Vertu Motors Arena features Nina Conti, Paul Sinha, Rachel Parris, Scott Bennett, Laura Lexx and many more.
Monday October 18
LONDON: Parkinson's disease is in the news a lot at the moment as Billy Connolly does the chat-show circuit to promote his new book. So it's good timing for the annual Shake With Laughter fundraiser to tackle the disease at the Comedy Store. The lineup includes Paul Sinha and Vicar Of Dibley writer Paul Mayhew Archer, who both have Parkinson's, plus Catherine Bohart, Eleanor Tiernan,Paul Tonkinson and Rob Deering.
LONDON: Spoof woke warrior Titania McGrath begins a week-long West End run at the Garrick Theatre. The 'radical intersectionalist poet and Twitter activist' created by stand-up Andrew Doyle and is played character comedian Alice Marshall, who first took the role at the 2019 Edinburgh Fringe. Doyle says: 'Titania McGrath is a satirical take on the rise of a new kind of moral puritanism. She is the kind of humourless, po-faced, judgmental activist who is able to find offence in anything.' Tickets
Tuesday October 19
HAYES: Paul Chowdhry kicks off his Family Friendly tour with two nights in the Back Theatre, at the far end of West London, with UK dates stretching through to mid-December. Paul Chowdhry tour dates And here's a trailer:
Wednesday October 20
CHORLEY: Former Sean Lock and Kevin Bridges tour support, Paul McCaffrey, beings a short tour of his latest stand-up show, Lemon. Paul McCaffrey tour dates
Thursday October 21
MANCHESTER: Alfie Brown headlines a night billed as 'comedy for hot people'... but we don't think they'll be checking your hotness at the door of The Fitzgerald in the Northern Quarter (unless it's for Covid). The bill also includes Sukh Ojla and 2019 Chortle Student Comedy Award winner Erika Ehler.
Friday October 22
LONDON: A strong and varied line-up bill at 21Soho tonight features Alex Kealy, Helen Bauer, Rhys James and Yuriko Kotani
Saturday October 23
LONDON: It's the final of the Musical Comedy Awards at the Bloomsbury Theatre. Vying for the title are Rhiannon 'Ray Ray' Hopkins, Ed MacArthur, Ding, David Hoare, Christy Coysh, Hel MacCormack, Flat & The Curves, Simon David, Orlando Gibbs and Edy Hurst. Tickets
LONDON: A great bill at the Bearcat in Twickenham tonight with TV's Lou Sanders, TV's loss Carey Marx and circuit favourites Dan Evans and Esther Manito
Published: 17 Oct 2021
What do you think?