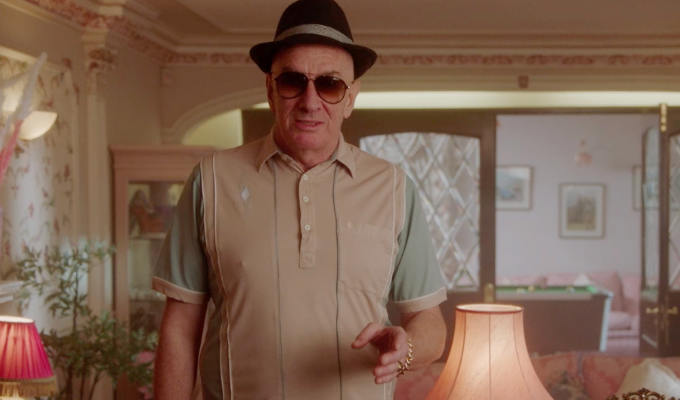 Simon Day revives Dave Angel
Simon Day's 'eco warrior' creation Dave Angel is making a comeback for a new advertising campaign about saving energy.
The Fast Show character is being used in commercials from Utilita Energy urging customers to 'Save Like Dave'.
He will initially star in a number sponsorship idents across the Discovery, Quest and DMAX TV channels, running between 9pm and midnight each day from October 18 to December 12.
A second wave of ads on other channels and billboards will follow in 2022.
In character, Dave Angel said: 'I said it many years ago, "The world's still turning, but we're not learning" and, quite frankly, I'm gutted that here we are - 25 years later! - and still bleating on about changes we need to make.
'So, I'm talking to you brothers and sisters… If you're still wasting energy around the house, remember, the cheapest, greenest energy is the energy we don't use.'
Utilita's chief marketing officer Jem Maidment added: 'We identified Dave Angel many years ago as the man to deliver these important messages. We are not preaching to people… I just want to try and bring a bit of fun back to our telly screens, even just for a few minutes a night, while delivering some sound advice.
'The work we have done with Dave will be really engaging and relevant and – most importantly – will help households do their bit for their pocket and the planet.'
Filming took place on location in south-east London early last year. The scripts came from Utilita's in-house marketing team and the ads were made by production company Mister Tibbs.
Founder Sami Abusamra, who also directed the shorts, said: 'When we were first approached about this project, I don't think we could've said yes any quicker. I grew up watching The Fast Show, so to direct Simon Day - playing Dave Angel - was once-in-a-lifetime stuff. We can't thank Utilita enough for bringing the project our way and can't wait for people to see it.'
Actress Amy Robbins – star of ITV drama The Royal – will also be seen, playing Dave's not-so-energy-efficient wife, Shirley in the upcoming adverts in 2022.
Here are a couple of the new idents:
Published: 15 Oct 2021
Recent News
What do you think?