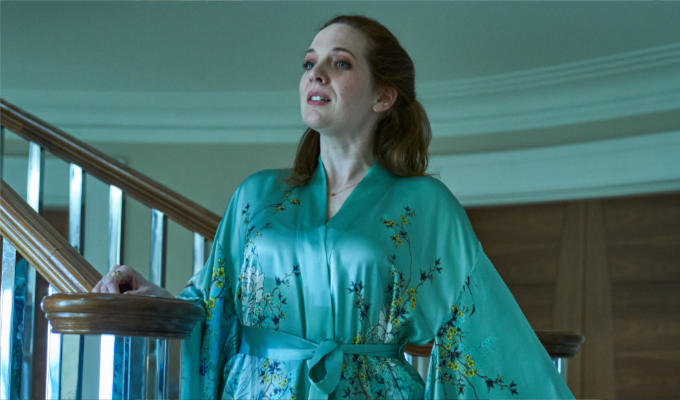 Katherine Parkinson joins Hitmen
Katherine Parkinson has joined the cast of Mel & Sue's Sky comedy Hitmen.
In the new series, the IT Crowd star plays villain Kat Gaitskill, who built up a lifestyle empire.
She's also a murderous psychopath harbouring a decades-long grudge against Sue Perkins' character Fran for, as she sees it, stealing her childhood best friend Jamie (Mel Giedroyc).
'It's nice to show a female triangle where they're fighting over the friendship of another female, Parkinson said. ' I'm not sure how much I've seen that. There's usually a man in the equation.
'There is a psychosexual element that I've been playing, but that wasn't necessarily in the script.
'I've discovered that I love playing absolute bitches. I have played a total bitch before in Defending The Guilty. I like playing withering high-status characters. I like doing things that are quite heightened, I think.
'I loved doing the scenes in the dark where I'd creep up behind Mel with a slightly glazed, medicated demeanour.
'There's a shot where I'm given a bunch of flowers and I go about trimming the stems, then chop off the heads with a sinister smile. I love all of that.'
Giedroyc said of Parkinson's involvement: 'She filmed with us for three full weeks which was an absolute treat and a joy. Mainly because she's trained so she's a really good, funny actress. We immediately felt like we had to raise our game. She's phenomenal.'
Other guest stars in the series, which returns to Sky Comedy on September 29, include Mathew Baynton, as an out-of-work actor employed to pose as a drug baron; Sanjeev Bhaskar as an old school friend of the duo turned charismatic photocopy salesman; Nina Wadia as a human trafficker; and Jarred Christmas as an Australian sniper.
Taskmaster's Mike Wozniak and Jessica Knappett also make appearance.s
» Interview with Mel & Sue about the new show
Published: 19 Sep 2021
What do you think?