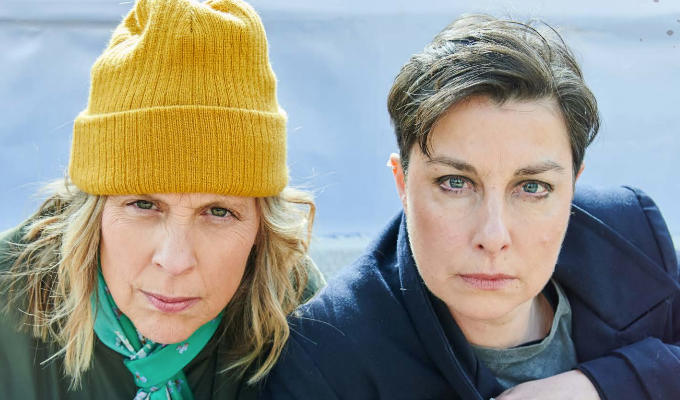 'You're being paid to just tit about with your best mate'
Mel Giedroyc and Sue Perkins return to Sky Comedy later this month with Hitmen: Reloaded, in which they play two assassins... this time on the tale of a villain played by Katherine Parkinson. Here they speak from the set on what viewers can expect from the new series...
---
How's filming been going?
Sue: We've been in a coffin all afternoon. Literally.
Mel: Five hours.
Sue: We've been doing some deep coffin acting.
Mel: The two of us, snuggled up, in a six-foot-long, three foot wide underground cavity. We started to lose oxygen and hysteria was starting to kick in.
Sue: It didn't help that Mel had the cauliflower option for lunch. It added a real sense of danger to the incarceration.
So social distancing is going well, then?
Mel: We are so bubbled.
Sue: I've shared so much genetic material with Melanie over the last three and a half weeks that frankly it's beyond bubbling.
Mel: Frankly the exchange of DNA material has been going on for 33 years, so that's nothing new.
How does it feel to be back and working on Hitmen?
Sue: Amazing. It's so fun.
Mel: It's weird because we haven't actually filmed Hitmen for two years. The second series kept getting pushed back because of you-know-what. There was a lot of anticipation and excitement, but also we felt quite nervous as well. I think a lot of performers feel that way, because we've all had a year plus of not actually doing that much, and now it's all come back with a full crew of people and expectations.
Sue: We've basically been given the chance to come back out of lockdown and play, albeit in a careful way. Being back at work adds that extra kind of responsibility. You really take care outside of filming because the crew is your family and you want to make sure everyone is safe. We felt incredibly protected in this environment and we've been able to do everything we would normally do. All the stunts, all the hanging about, all the messing around. We had a lot of good weather which allowed us to film outside, which helps. And this may come as a surprise, but we didn't have any intimate scenes so we didn't have to resort to glass, Perspex or cling film to, you know, stop the exchange of bodily fluids.
What scrapes can we expect to see this series?
Sue: Lots of fighting. We started the first week doing some heavy stuntage, which at my age is a bit of an ask, I won't lie. In my head, I'm Carrie-Anne Moss from The Matrix. In reality, I'm Bella Emberg as Blunder Woman. The difference between me and a real assassin is that my hip flexors really twang the next day.
Mel: We had to bog wash one of our major guest artistes…
Sue: I've driven a hearse at 80 miles per hour… And we've become part of a psychosexual love triangle.
Mel: That's the overarching storyline for this series. Tthe third party of that triangle is of course the amazing Katherine Parkinson.
Mel: Yes! She filmed with us for three full weeks which was an absolute treat and a joy. Mainly because she's trained so she's a really good, funny actress. We immediately felt like we had to raise our game. [Her character] does some very, very dastardly things. We've finished our scenes with her now and I think we'll miss her.
Any changes in your characters since series one?

Sue: Sue: Fran has gone back to her default setting of single and focussed on the job. She's quite obsessive, and this series she's got her sights set on getting to Japan. She wants to be big in Japan They've slightly smartened up. They're still idiots but they've got a new boss now. And there's the possibility of some international assassinry beckoning. Everything's gotten a slight upgrade – the clothes are cooler, the van is nicer…
Mel: I'm in a boiler suit this series.
Sue: I'm wearing a double T-Shirt, which for me is a real elevation.
Is Jamie still rocking the trademark woolly hat?
Mel: Yes! The Benny from Crossroads woolly hat. Can't change perfection.
Sue: And I've got slightly less Lego hair, which is a real relief.
Mel: We're really, really excited by this series. Any first series that you do, particularly comedy, is trying to work out what everything is. Who are the characters? Why are they funny? What are their relationships? What are the scenarios? The second series is a joy because it feels much more like it knows what it is.
Sue: There's less of that explanatory stuff that needs to happen. We felt really unfettered with the removal of exposition.
In series one Fran and Jamie disguised themselves as Simon and Garfunkel to infiltrate a wedding…
Sue: Yes! I have that as my screensaver actually, as we look genuinely insane. It looks like something out of Broadmoor.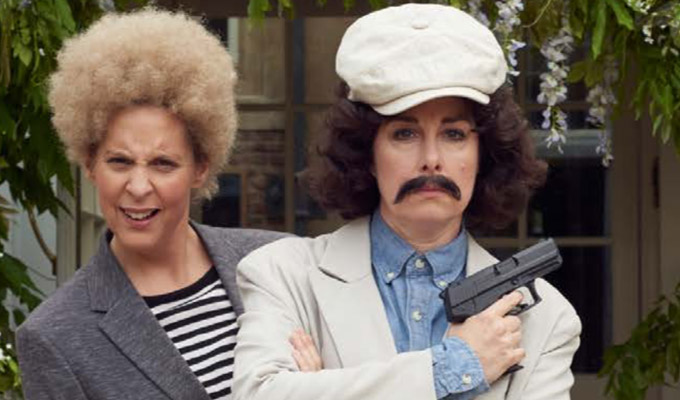 Can we expect any more fancy dress this series?
Mel: Yes. We spend the first episode harking back to our glory days as teenagers in the 1980s, and that was a ruddy joy. It just felt normal! Perks was donning a sort of ruffled, New Romantic Adam Ant style fare…
Sue: Totally normal for me.
Mel: And I have these fishnets and tights and netting and belts… it just felt brilliant. I think that episode is going to look really lovely. And it's quite sweet as it's basically a bunch of people in their early fifties dancing along…
Sue: Trying to tragically relive their glory days. Which is basically what our double act is based on. There's a couple of other more sinister outfits that we're sporting…
Mel: But Katherine gets the best clothes. She's a very successful life coach and she brings some quite high fashion stakes to the tables.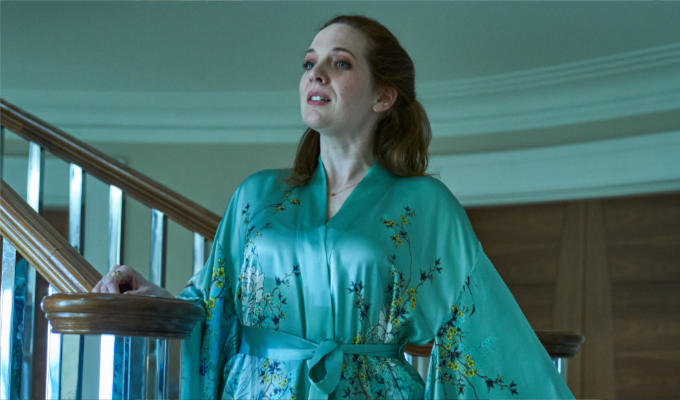 Can you give us a preview of any other guest stars?
Mel: We were delighted to have Sanjeev Bhaskar joining us for episode one. He plays a charismatic photocopy salesman who attends the reunion and there's a "Is he a baddie? Is he a goodie?" thing going on. The guy is just superb.
Sue: We've got Mat Baynton coming on, he has his Horrible Histories fan club here. What's nice about this series is we can be much more ambivalent with the characters – it's up in the air as to why they end up on Fran and Jamie's list, whereas it was a bit more flagged in series one.
Mel: It's lovely when they come on and say that they really wanted to do this just because they'd read the script and laughed out loud. Full props to our writers – "The Joes", as they're known. And this series we had Oriane [Messina] and Fay [Rusling], who are an amazing writing double act, and Jessica Knappett. They are so good and so on it, we feel extremely lucky.
Being contract killers is just the latest project in a partnership that's been going since 1993. If you can hack it out for another four years your on-screen career will have spanned longer than Cannon and Ball's…
Mel: [Gasps]
Sue: Don't put that out there! That is such a carrot. They were the gold standard.
Mel: That is really something to aspire to.
How do you feel about having such career longevity? Is there a secret to working together and also staying friends? Not everyone can manage it.
Mel: Just keep hanging on, Sue: Stay on the bus. Stay on there until somebody forces you off it. Refuse to go. You are the person on the Tube who is sleeping at the terminus.
Sue: Or on the Circle Line, just going round and round and round. Sometimes you get to the right stop, and people really enjoy it. Sometimes you miss all the stops. It's been chequered, really. Some things have worked brilliantly beyond our wildest dreams. Some things have failed worse than we can ever imagine. But the thing that keeps it going in continuum, is that…
Mel: We're friends.
Sue: We love each other. We have a laugh. Sometimes people buy into that and sometimes they don't. I'd be very happy to be doing it well into my eighties because it would mean we'll just get to keep dicking about.
Mel: It's so much fun, honestly. The hours are long and so on, but you're essentially being paid to just tit about with your best mate. It's ridiculous. You wear fun costumes and get given funny things to say. It's the friendship that keeps it going. If we stop having a laugh it's time to very graciously put the bag of props and costumes away, but while it's still good fun and we're laughing we'll keep going for as long as we're upright.
Sue: An armorer will give you a Glock and tell you the last person to handle it was Jason Statham. That's when you know you're living the dream.
Mel: Mine was Vin Diesel's, mate.
Sue: Was it?
Mel: No.
• Hitmen: Reloaded starts on Sky Comedy at 9pm on September 29. Edited version of an interview supplied by Sky
Published: 19 Sep 2021
What do you think?