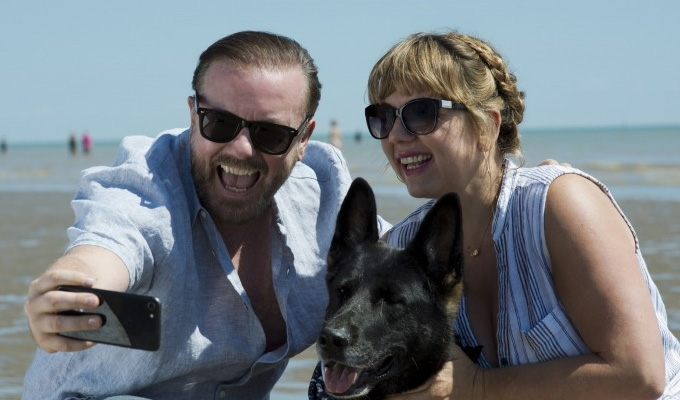 After Life wins National TV Award
Ricky Gervais's After Life was named most popular comedy at the National TV Awards last night
Accepting the award – the only major accolade to be chosen by an online viewer vote rather than an industry panel – Gervais said: 'I do [this] for the money… you're the second reason.'
His Netflix show triumphed over fellow nominees Friday Night Dinner, Sex Education and The Vicar of Dibley – which won the TV Choice award for best comedy earlier in the week.
Series three of After Life has been short, with Gervais saying he expects it to be released next year.
Meanwhile, Paddy Raff, Rhod Gilbert and topical radio show A Perforated Ulster have won accolades at the Celtic Media festival.
Rhod Gilbert's Work Experience won the factual entertainment category at the event, which celebrates programmes from Scotland, Ireland, Galicia in North East Spain, Wales, Cornwall, Brittany and the Isle of Man.
The Paddy Raff Show was named best comedy. The Belfast stand-up said: 'Filming a sketch show in lockdown was a challenging but rewarding experience that was an achievement in itself, but to win an award for this, my first TV project, is unreal and an honour I share with the small but dedicated team who helped me create The Paddy Raff Show.
''Covid meant no lavish awards do in France but it was probably fitting that I watched the ceremony online sat on the sofa in a pair of shorts and a hoodie.'
BBC Radio Ulster's A Perforated Ulster was named best radio comedy.
Published: 10 Sep 2021
What do you think?