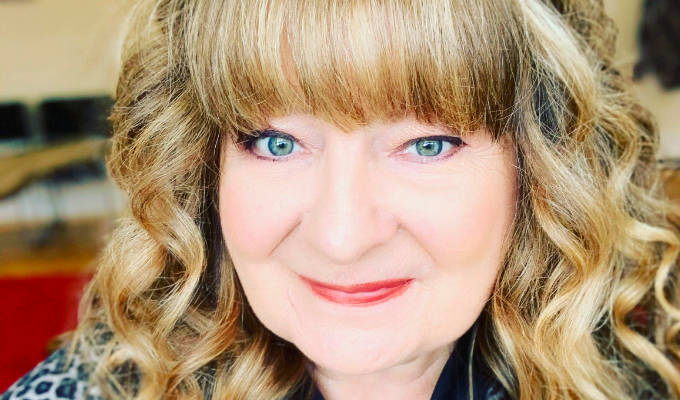 Scottish government drops Janey Godley ads
Janey Godley has been dropped from the Scottish government's public health campaign amid controversy over her offensive old tweets.
The comedian – whose profile soared with her online content over lockdown – had been paid £10,000 to front he 'stop the spike' Covid messages.
Earlier, Godley had apologised after old messages using 'horridly offensive' language about disabled people emerged.
Now the Daily Beast website compiled a list of racist tweets which it presented to Holyrood chiefs, forcing them to ditch the campaign.
Her posts were mainly about black American celebrities, for example saying of Kelly Rowland: 'If Kelly talks like a ghetto blaster racist black chick am gonna punch her rice and peas.'
And she said of Snoop Dogg: 'I can't believe snoop dog gets jailed for possessing weed—he's a black rapper of course he has weed that's his job isn't it? And singing.'
Godley said tonight that she had donated the fee for the Covid campaign to charity.
And a spokesman from the Scottish Government told The Sun that 'the material will be discontinued immediately on our own channels and withdrawn as soon as possible from external media', saying that the storm over the 'unacceptable tweets' had overshadowed its public health message.
In a video posted online, Godley said: 'I thought being a stand-up comedian – an outspoken stand-up comic – meant I could use any phrases, any words, say anything, and they wouldn't be taken out of context. But that's wrong, absolutely wrong.
'I have used phrases, words, comments with horrifically despicable undertones and you cannot just pass that off as comedy and I accept any criticism that comes my way.
'If I don't own the shame of these phrases and words then I would be disingenuous to anyone who's ever supported me I'm sorry. I will be better. I can't apologise enough. I'm really sorry.'
From me pic.twitter.com/Z0NuI6MoBr

— Janey Godley (@JaneyGodley) September 9, 2021

In a 2006 Chortle review of an Edinburgh Fringe show Godley performed with her daughter Ashley Storrie has also been attracting renewed attention following the row as it drew attention to 'downright offensive' lines including use of the N-word and 'retard'.
The row over Godley's social media blew up last night after critics of her role in the Scottish government campaign unearthed posts from several years ago that used offensive language mocking disabled people, such as 'spazzy'.
She subsequently apologised for the 'disgusting and hurtful' words, but also said some of the comments being attributed to her were fake.
'There are tweets from my past social media that are horridly offensive,' the comedian said in a statement. 'I believe in progress not perfection and I am far from perfect.
'People have every right to go through my social media and see what values I hold and to find hurtful phrases and statements is shocking, I am deeply sorry to everyone I offended.
'Comedy is no excuse to use disgusting and hurtful words that affect people and I know many of you expected better of me. I apologise for every single word that upset people, I should have blocked and reported the accounts that threatened me and not replied with abhorrent heckles.
'There are fake tweets created to damage my reputation but the ones I wrote I take responsibility for During this pandemic, I tried to keep everyone's spirits up and I will continue to do my best to keep that going.'
This morning she added she added on Twitter; 'I absolutely deserve every bit of criticism for the language used in past tweets, there is no shying away from that. I am writing this as I haven't slept well, it's my own fault, people have the right to go through past TL [timeline] and scrutinise each tweet, I deserve this… if you put yourself up there and say horrific offensive stuff that hurts people, you deserve to be brick batted down - that's life. I accept that, people have the right to punish me.'
Godley has also fronted an anti-litter campaign for taxpayer-funded Zero Waste Scotland, although the value of that deal has not been revealed.
Stephen Kerr, the Scottish Conservative chief whip, criticised the SNP for using 'a significant amount of taxpayers' money in getting a divisive figure to front their latest Covid advert'.
Meanwhile, His Majesty's Theatre in Aberdeen has come under pressure over Godley's appearance in their forthcoming pantomime Beauty And The Beast.
Tory MSP Douglas Lumsden said her 'history of offensive and derogatory language on social media' means she is not 'an appropriate star of a family pantomime'.
However, the theatre has so far stood by her.
Published: 9 Sep 2021
What do you think?