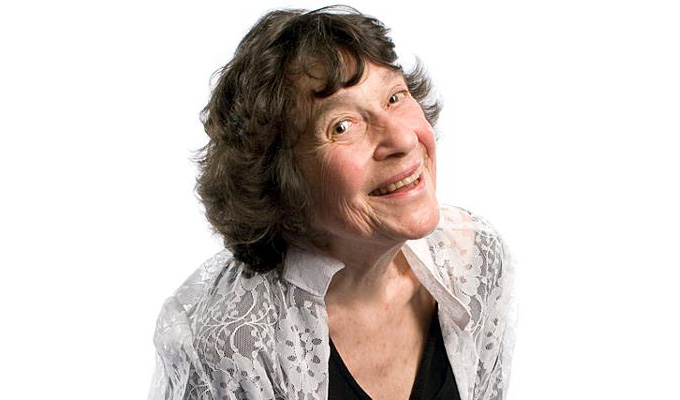 Lynn Ruth Miller dies at 87
Lynn Ruth Miller – who laid claim to being the oldest female comedian in the world – has died at the age of 87.
Tributes have been pouring in to the British-based American, who only turned to stand-up when she was 71 years old, having previously been a writer and a newspaper columnist.
Her friend, the comedian and cabaret singer Sarah-Louise Young, confirmed the news after it had been widely shared on social media saying on Facebook: 'I am sad that my friend is gone. I loved her for 16 years, and so did a lot of other people. The outpouring of love is beautiful.'
Miller had been diagnosed with cancer earlier this year, and a crowdfunding campaign raised more than £10,000 to help her while her income ran out. At the end of July, she told supporters: 'I am blown away by everyone's incredible generosity and cannot thank you enough. I am humbled by all of you. I never dreamed I had touched so many lives. Thank you for all your beautiful comments.'
Those tributes have been amplified in her death, with a huge outpouring of grief and memories from the circuit.
Eleanor Tiernan said: 'So sad about the passing of Lynn Ruth Miller. A beautiful gentle funny soul and enormous loss to us all. Stand up comedy having a terrible week.'
Rich Wilson said: 'A brain more sharp than a field full of knives and a life lived more full than any of us could possibly imagine, Lynn Ruth Miller was a walking example of age being just a number. RIP you beautiful human, you.'
Matt Green said: 'It's rare that you meet someone genuinely inspirational, but Lynn Ruth Miller was definitely that. I'm very sad to hear that she has passed away. It's been a terrible few weeks for the comedy community.'
So sad to hear the passing of a another great. Last time I gigged with Lynn Ruth Miller was on zoom, had hoped to catch her over the fringe. 87 and could run rings round the alot of us. Way smash that gig in great beyond! pic.twitter.com/N2EEyokucp

— Billy Kirkwood vs The World Crime League (@Billykirkwood) September 7, 2021
Tom Mayhew said: 'Rest in peace, Lynn Ruth Miller. She was proof that it is never too late to follow your dreams, while making tons of people wet themselves with laughter at the same time.'
In an industry that is so most certainly ageist she gave old comics inspiration and most definitely a voice setting the record as the oldest comic in Britain if not in the World she defied the odds,and gave others belief Lynn Ruth Miller make them laugh up there #lynnruthmiller pic.twitter.com/yvTcElbnON

— President Obonjo (@realObonjo) September 8, 2021
Jay Foreman said: 'So sad to hear about Lynn Ruth Miller. She was always so kind, fun to work with, hilarious and truly inspirational.'
Phil Elis said: 'Just heard about Lynn Ruth Miller, another horribly sad loss to comedy. An hilarious and vibrant person on and off stage. Rest in peace and thank you for all the laughter.'
Born in Toledo, Ohio, in 1933, Miller earned a masters degree in journalism from Stanford University at the age of 30. Twice divorced, she turned to stand-up after taking a comedy class in San Francisco, intending to write a newspaper report about it, but was bitten by the bug. She said: 'I always came up with smart remarks that got me into trouble'
Her early performances were in burlesque, where she would perform a striptease, before turning to more straightforward stand-up.
She took part in America's Got Talent in 2008 and Britain's Got Talent in 2012, when Simon Cowell scowled that he 'didn't laugh once'. The other judges put her through, but she did not make the semi-final.
In 2016, she appeared on Channel 4 reality show Britain's First Dates, where she seemed to hit it off with her match, but later said: 'John, despite what he said, did not call me. He definitely thought better of it when he got away from the heady atmosphere of being filmed for TV.'
At the time of her death, she had been due to record a Radio 4 special
Miller published her autobiography Getting The Last Laugh: The Inspirational True Story of the World's Oldest Performing Comedienne last year and earlier this year followed it up with Ridiculously Old And Getting Better, which made the case that we get better with age.
Her life was proof of that.
Here she is performing at Chortle's Fast Fringe in 2014:
Published: 7 Sep 2021
What do you think?