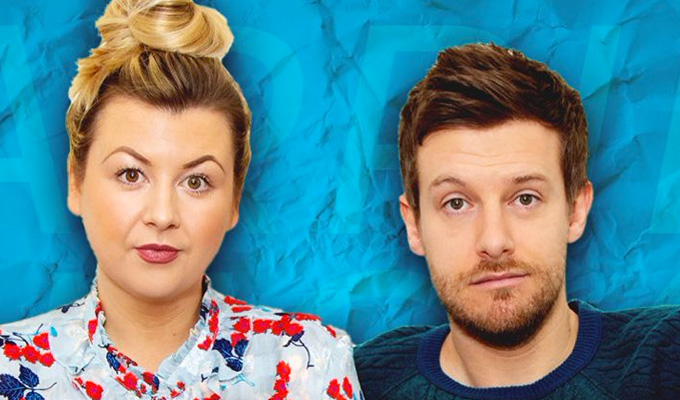 Shagged. Married. VERY Annoyed
Rosie and Chris Ramsey's shows in Edinburgh today have been cancelled with just four hours notice.
The pair were due to reopen the city's Playhouse theatre today after a 536-day Covid closure with the first date in the live tour based on their podcast Shagged, Married, Annoyed.
But this morning – after travelling to Scotland – they discovered the iron curtain on the stage has broken and cannot be raised.
In a statement released on social media just before 11am today – four hours before the 3pm matinee – the couple said: 'We are absolutely devastated that both shows in Edinburgh today have been cancelled. It is completely out of our hands, we only found out this morning ourselves, having travelled here yesterday. So sorry to anyone else who has travelled to see us.
'The iron curtain on the stage at the venue is broken and can't be lifted up, so it's impossible for either show to go ahead. We are so sorry. We're just so gutted and we can't apologise enough.
The couple have rescheduled both the matinee and the 8pm show to December 5, and tickets will be reissued or refunded.
Their podcast claims 80 million downloads worldwide and has spent a full year in the top 10 of the UK charts and their tour boasts nine arena dates, including the O2 in London.
Edinburgh Playhouse, which is owned by the Ambassadors Theatre Group, sent a text message to ticket-holders before issuing a statement confirming that they 'had to make the difficult decision to cancel today's performances due to unforeseen technical problems.'
A spokesman explained: 'Our stage safety curtain which was recently inspected in line with our reopening procedures, failed during pre-show checks this morning and we have been unable to raise this allowing space for Chris and Rosie to perform.
'We have had no problems with the safety curtain until this point and called in engineers straight away who despite their best efforts have been unable to fix this. We therefore had to make the difficult decision to cancel these performances to ensure the safety of our performers.'
'We apologise for the inconvenience and disappointment this has caused Chris, Rosie and our customers and we tried to inform bookers as soon as possible by email, text message and social media and asked ticket agents to do the same.
'We would like to thank Chris, Rosie and our customers for their patience and understanding of this rare event.'
The Ramseys now launch their tour with hometown gigs in Newcastle on Wednesday and Thursday. Shagged, Married, Annoyed tour dates.
Published: 5 Sep 2021
What do you think?