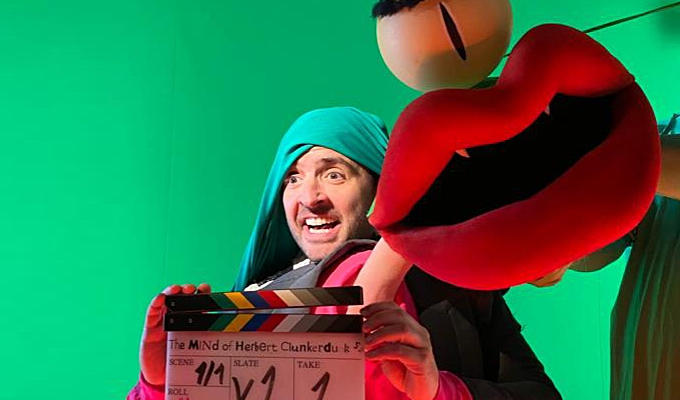 Herbert Clunkerdunk returns!
The BBC has ordered a second series of Spencer Jones's inventive comedy The Mind Of Herbert Clunkerdunk.
And Vic Reeves and stand-up Felicity Ward are joining the cast.
Filming has begun on five new 15-minute episodes of the oddball comedy in South East London – and above is the first picture from the set.
Jones said: 'In what can only be described as an admin error the BBC are allowing me on the beautiful BBC Two once again.
'But let me tell you this: there have been no admin errors when booking the cast for the new series of Clunkerdunk 2. Wait till you get a load of these legends.
'Like most people I have been locked in a house with my family for well over a year. And also like most people I have gone insane (self-diagnosed). All of my mind mess has been turned into a five episode series. So if you think the last series was weird I would stay well away from series 2. More characters, more songs, more gags…'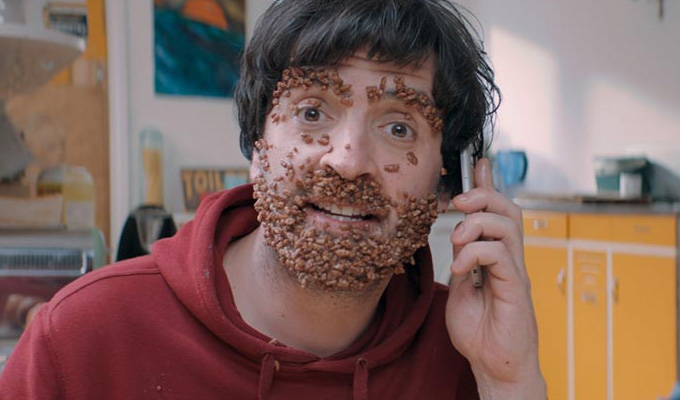 News of the series comes on the day the BBC releases the pilot of Please Help, a new comedy from Lucy Pearman, who plays Clunkerdunk's wife Bobby Kindle.
In the new series, comedian Ward plays Bobby's old uni friend Denim Jean, while Reeves plays the personification of Clarity. Dominic Coleman returns as neighbour Jonny Wallop while Shiloh Coke joins the cast as an ex-boxer called Rusty.
Plot lines include a simple visit to the mechanic turning into a full-blown western, a father/son fishing trip that uncovers an underwater dystopia, and Clunkerdunk struggling to get his tax return done because the stationery on his desk is performing a steamy, sensual stop-motion affair.
Meanwhile Bobby becomes supercharged by static electricity, Jonny Wallop is hunted by a creature of the night, and Herbert's front door still talks to him - but now he's got a new love interest, the seductive Sasha Window.
David Simpson, head of programme-makers Tiger Aspect Comedy, said: 'What an absolute joy it is to see this show return. Spencer's creativity is endless and he has been on fire writing the scripts for the new series. I'm so excited to see Herbert's imagination come to life again!'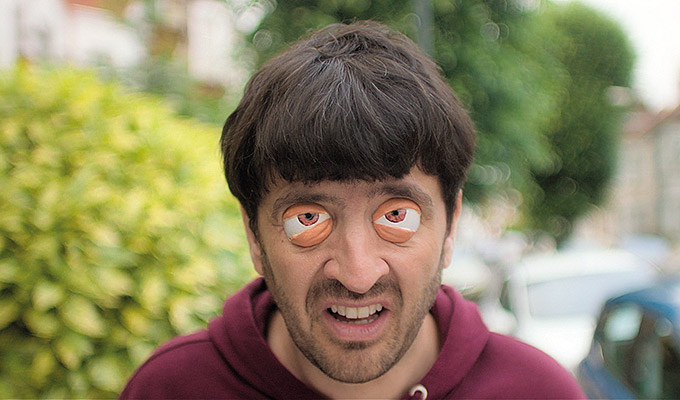 Ben Caudell, BBC comedy commissioning editor says: "It's wonderful to have Spencer's unique brand of madness back on the BBC. This new series goes deeper into the mind of Herbert Clunkerdunk than any one has ever attempted before. We don't actually know if it's safe to do so but we're pushing on anyway in the name of science.'
The new series comprises one more episode than the last, with each instalment running for 15 minutes rather than the previous ten. The first series aired in 2019, following a successful Comedy Shorts pilot, which was nominated for a Bafta. Watch series one on iPlayer, or read our five-star review.
Broadcast details for series two have yet to be announced.
The Mind Of Herbert Clunkerdunk production credits
Made by: Tiger Aspect Comedy
Written and created by: Spencer Jones
Producer: Ben Worsfield
Director: Martin Stirling
Executive producers: Spencer Jones and David Simpson
Commissioning editor for the BBC: Ben Caudell.
Published: 7 Jul 2021
What do you think?