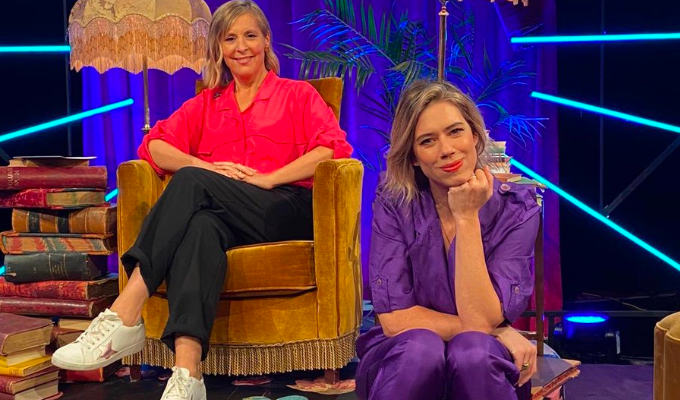 More Unforgivable...
The Dave channel has confirmed Mel Giedroyc's panel show Unforgivable is returning for a second series.
Lou Sanders will return as her sidekick for the eight new hour-long episodes, which will go into production later this month.
The news is no surprise as Giedroyc let it slip on ITV's Lorraine in April, telling the host: 'It's great, great fun, naughty show, you must come on Lorraine - I want to hear your secrets.'
In each show, a panel of three comedians and celebrities share their shameful anecdotes in a bid to be dubbed the most unforgivable person in the room.
Giedroyc said today: 'I am utterly thrilled to be taking to the Unforgivable dais once more… (I love the word "dais". It's almost as good as "plinth").
'It's going to be an absolute cracker of a second series. I know that because I manifested it this morning.
'Just a word of explanation. For those viewers who have confused this series with the film Unforgiven, much as I do have a lot in common with the story of an ageing outlaw and killer who takes on one more job years after he'd turned to farming, I am Mel Giedroyc, a perimenopausal lady from Leatherhead, not Clint Eastwood, the multi-Oscar winning octogenarian hottie.'
Sanders added: 'Cutie pops and sweetie pie back together at last - just like the nation demanded! Can't believe this series is going to be underwater - wait, unless that was a prank?'
One real change is that the drone, which flew in props to prompt guests about particular stories, will be dropped.
Mel Giedroyc: Unforgivable launched earlier this year with guests including Graham Norton, Richard Ayoade, Jennifer Saunders, and attracted an average audience of 816,ooo including online viewing and same-week repeats.
And now over to @LouSanders with the news…. pic.twitter.com/h4NbtKp1TH

— Dave (@davechannel) June 15, 2021
Executive producer Ben Wicks, from production company Expectation, added: 'This time around we'll be ramping up the number of skeletons being dragged out of our guests' closets by having all manner of surprise appearances pop up throughout the show. It's a bit like This Is Your Life, but featuring all the people who really wish they'd never met you.'
Mel Giedroyc: Unforgivable production credits
Made by: Expectation
Commissioned by: Hilary Rosen, UKTV deputy director of commissioning; Richard Watsham, director of commissioning, and Steve North, genre manager, comedy and entertainment.
Executive producers: Ben Wicks for Expectation and Hilary Rosen for UKTV
Series producer: Dominic Wells-Martin
Published: 15 Jun 2021
What do you think?