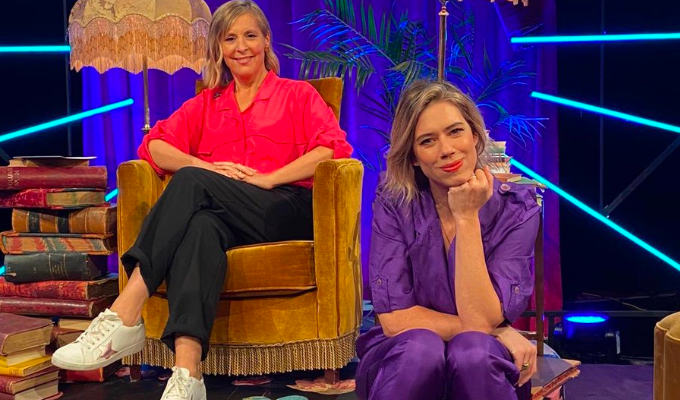 Mel Giedroyc: Unforgivable
In Unforgivable, Mel Giedroyc's been saddled a format that she doesn't even have much confidence in, the needlessly complex negative scoring, unnecessary gong, and convoluted rounds becoming a running joke even from episode one.
But ignore all that hoo-ha and this is essentially a chat show stripped back to the good bits. Guests can forget plugging the latest project or telling us what a delight their co-stars were. Just tell the entertaining and embarrassing stories from your past.
For that reason, Graham Norton is ideal invitee to get the ball rolling. With the usual dynamic reversed, he can open up about the time in childhood he went through a medical operation just to save face, or the time he was unprofessional when working at a restaurant. Expect pre-fame stories of service industry misdeeds to be a running theme over the eight episodes, as Giedroyc quickly tops his tale. They are supposed to be shameful anecdotes, but there's definitely some pride in sharing their defiance in a shitty job.
Some of these yarns may have been told before in autobiographies or, in the case of Desiree Burch, in her stand-up shows, but there's nothing wrong with some edited highlights. Burch also has the series's first 'shitting herself' story, while the Last Leg's Alex Brooker doesn't emerge with much glory after telling of how tried to 'catch' a girl in a Home Alone-inspired trap.
The show has the relaxed air of a good podcast. if you're not too overwhelmed by them, thanks to Giedroyc's easy-going manner - even as it conceals a slight edge of mischief. She walks am effective line between being non-judgmental enough to draw the stories out… but also to react with some degree of horror when required.
With panel shows apparently everywhere at the moment – largely due to being the one sort of programme that can be made relatively easily with social distancing – Unforgivable's secret weapon to stand out is Giedroyc's spotlight-stealing sidekick Lou Sanders.
Her breakthrough Edinburgh show a couple of years back revolved around the idea of owning her shameful past actions, and she brings that attitude to bear here. She'll breezily share awful behaviour, her confidence a thin veil for the insecurities behind it that she winningly laughs off. She doles out her fair share of good jokes too – as well as a couple that probably ought to go straight into that category of 'things she should be embarrassed by but isn't'. After all, why should dad jokes just be for dads?
* Mel Giedroyc: Unforgivable starts at 10pm tonight on Dave. Here's an interview with Mel, and here is an interview with Lou.
Review date: 2 Feb 2021
Reviewed by: Steve Bennett
Recent Reviews
What do you think?