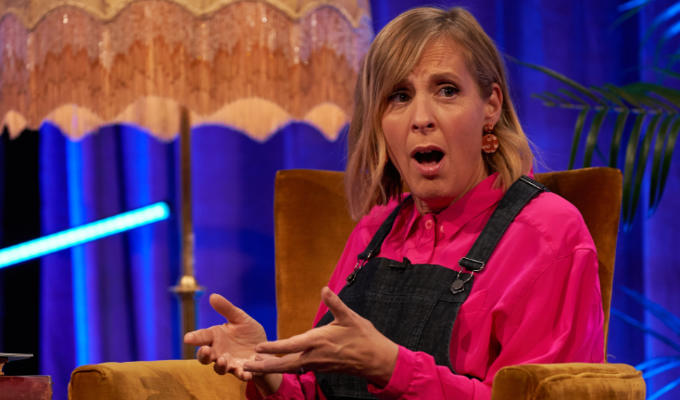 'There are a fair amount of poo stories....'
Can you explain the format of the show?
It's a gleeful celebration of the outrageous. It's basically people telling us their stories. We have three celebrity guests on every show and the aim of the game is that the person who can make themselves most unforgivable, wins the show.
The scoring system is really quite complicated. It involves minus points. The lower the score, the better you've done. And you will achieve that by spilling the worst things about yourself. So that, in a nutshell, is what it is: show us what a horrendous person you are.
How do you get your guests to confess to such horrendous things?
I think partly it was because there was a great atmosphere in the studio. We just had a great time.
So back in March 2020 we were supposed to record and then the first lockdown was called literally on the day I was looking at costumes and going through scripts, and the guests were due to come the next day. So we were all sent home. Gutting.
Then we managed to do it in October just before the next lockdown, which was so lucky. We got in under the wire. And we were allowed a small audience. I think it was all beyond our wildest dreams, and we'd all been locked up for so many months, so we had a lot of fun in the recordings. It was madness, actually, a bit giddy.
I was very keen for each show to have a good age-range of guests because I think you get something different from each age. I think the young'uns are all quite shocking, talking about stuff that we would never have talked about, and I kind of admire that. I think that's impressive.
But then it's really good if you get somebody a bit more seasoned who's been around the block a few times. They have an ease about them. They've probably written an autobiography and they really don't care what else comes out, so it's a win-win. The older you get, the less you care.
That's how I feel anyway. I just kind of think, 'I'm a perimenopausal 52-year-old from Leatherhead. Who am I trying to impress? I'm not sure how many years I've got left in this game. Let's have fun and spill a bit…'
What sort of stories do guests come up with?
There's a really good range. I have to say the researchers on the show did a brilliant job with this because you obviously don't want to end up with tons of stories that are all about the same thing. We've got everything from eating pets to scandalous goings-on in the bath.
There are childhood stories which are always brilliant and often quite charming because when you're a child you don't have quite the same sort of moral compass or sensibilities that you have as you get older.
Relationships are always very fertile territory. The world of work is good: it often involves jobs pre-fame that maybe people didn't like very much and that seems to bring out naughty, frisky side of people.
There are a fair amount of poo stories.
Who were some of the stand-out guests?
Graham Norton was absolutely wonderful. I love the way that he doesn't shy away from telling stories about himself. There's one he tells about an incident with his dog in the park which is just so good. And an appendix story which is amazing. They're all very relatable, the stories.
Gemma Collins was superb too - such a great storyteller with amazing timing. All of our guests were awesome, every one of them.
We do have some surprise guests too. That was a buzz. The whole subterfuge backstage to keep people apart was so brilliant. There were a lot of codenames; a lot of people saying things into walkie-talkies like, 'Has Mr Blobby landed?'
You also have confessions from the audience, don't you?
The public confessions are more left-field, surreal and mad than you could ever make up. It's always the way, isn't it, that the stuff from real life is always the most outrageous.
I hope the show taps into that in a very celebratory way because it's not trying to make anyone actually look really bad. It's just gleeful rather than condemning anybody.
How did you enjoy working with Lou Sanders?
I adore her. I think she's absolutely brilliant. I love her as a stand-up, and I love that she's so different from me. Sue [Perkins] calls me The Onion because there are so many layers to get through before I will actually say what I'm properly thinking or feeling. Whereas someone like Lou, it's all out there. She talks openly about everything. I really blooming well admire that.
I call her the Keeper of the Filth. She's my co-host and essentially the PA of the show: she holds the knowledge, she holds the book. she's the keeper of the filth. She's like a filthy Richard Osman to my Alexander Armstrong.
Do you make any confessions yourself?
I did make a confession about working in catering on a friend's short film. Everyone was working for free: the actors, the crew. Sue and I did it together and we'd been slaving away, making food and snacks and drinks to keep everybody happy.
There was this actress – I can't actually remember her name, she came to nothing! – and she had the audacity to come up and complain about something… So I snotted into her pasta and presented it to her. I felt really bad though because she came up at the end of the afternoon and said it was really delicious!
But you know, I've been a waitress so many times in my life, and I've worked behind bars and I had such a short fuse with rude customers or people that were badly behaved. Never, ever treat a waitress badly. You'll end up with snot - or worse - in your food.
Are you a forgiving person of other people or do you bear grudges?
On the outside, I will be absolute sweetness and light, and I will forgive anyone anything. But I'm a brewer. There are a few things I will never, ever EVER forget.
Having said that I think with everything that went on last year, I think we've realised life's too short and the only person that gets harmed by bearing grudges is the grudge-bearer. So I'm not going to do that any more.
I've only got a couple and I'm going to get rid of those. How do I do that, I wonder – can I hire a shaman?
• Mel Giedroyc: Unforgivable starts at 10pm on February 2 on Dave with guests Graham Norton, Desiree Burch and Alex Brooker. Click here for an interview with sidekick Lou Sanders. And here is a preview:
Published: 20 Jan 2021
What do you think?