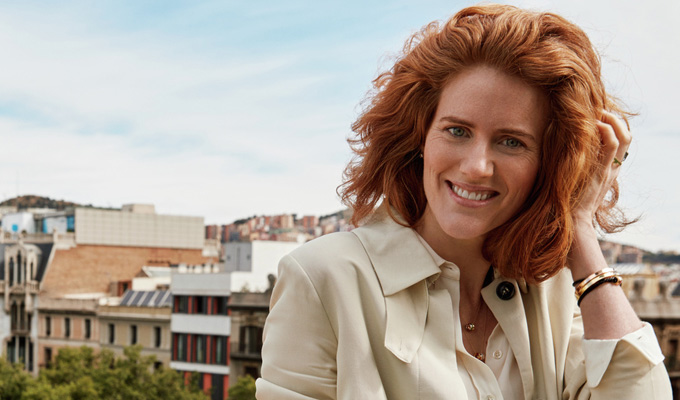 New Radio 4 storytelling show from Sarah Kendall
The week's best new comedy on TV and radio...
Sunday June 13
BENJAMIN: A TV airing for Simon Amstell's bittersweet comedy romance about a young filmmaker who is living in fear of his second feature bombing when he falls for a French music student. Here is our original review. Channel 4, 12:55am
Monday June 14
INSIDE NO 9: The final episode of the current series, Last Night Of The Proms, ties in to the flag-waving nationalstic debate that has come to surround the annual Royal Albert Hall concert. Dawn and Mick (Sarah Parish and Steve Pemberton) are hosting their regular Last Night party, the perfect antidote to post-Brexit Britain. But not everyone is singing from the same song sheet. Julian Glover and (of course) co-creator Reece Shearsmith also star. BBC Two, 10pm
B
BIG ZUU'S BIG EATS: James Acaster, himself the co-host of a food-based podcast, Off Menu,is tonight's guest. And read an interview with the comic to promote the show here. Dave, 10pm
VICTORIA WOOD IN…: Another chance to see the comic in a collection of half-hour sitcoms, which originally aired 1989. Guest stars include Julie Walters, Una Stubbs, Celia Imrie and Patricia Hodge. There's a different episode every night at the same time this week, starting with Mens Sena In Thingummy Doodah, in which Victoria attends a health farm. Gold, 9.20pm
Tuesday June 15
ELLIS JAMES AND John Robins: ...And Fern Brady to complete to make sure all the competing home nations are represented as they provide some top quality Euro #content. Radio 5, 1pm
Wednesday June 16
TIM KEY DELVES INTO DANIIL KHARMS AND THAT'S ALL: In a rerun of a 2016 Radio 4 show, the comedian looks at the life of one of Russia's greatest absurdists, Daniil Kharms, who has had a profound effect on his career.Radio 4 Extra, 2.30pm
UNITE: Ahead of a full series, a rerun of this pilot from father and son Elliot and Mark Steel in which they play a working-class, left-wing South Londoner and his disenfranchised Croydon 'rude boy' son, moving in with upper-middle-class property developer Imogen (Outnumbered's Claire Skinner) and her Eton and Oxbridge-educated son, Gideon (Ivo Graham). Radio 4, 6.30pm
Thursday June 17
SARAH KENDALL: TALKING STORY: After 15 years as a stand-up, Sarah Kendall adopted a storytelling approach to her work, reimagining her teenage years as though they had been directed by John Hughes, giving her memories a full, cinematic makeover. She says the change in approach led to a stronger connection with her audience, and in this new Radio 4 series, she talks to three other storytellers about their work. In this first episode, it's Chris Addison, who has moved from joke writing to screen writing and directing. The next two guests have not yet been announced. Radio 4, 6.30pm
MOCK THE WEEK: A later slot for tonight's episode, which features Maisie Adam, Angela Barnes, Ed Byrne, Glenn Moore and Evelyn Mok.BBC Two, 11.30pm
Friday June 18
MAX WALL: IT'S GOT TO BE FUNNY, HASN'T IT?: Max Wall, one of Britain's greatest clowns, traces his life and career in this rarely seen 1983 documentary, including extracts from performances, and his frank assessment of the love affair that nearly ended his career. Talking Pictures TV, 9.50am.
Published: 13 Jun 2021
What do you think?