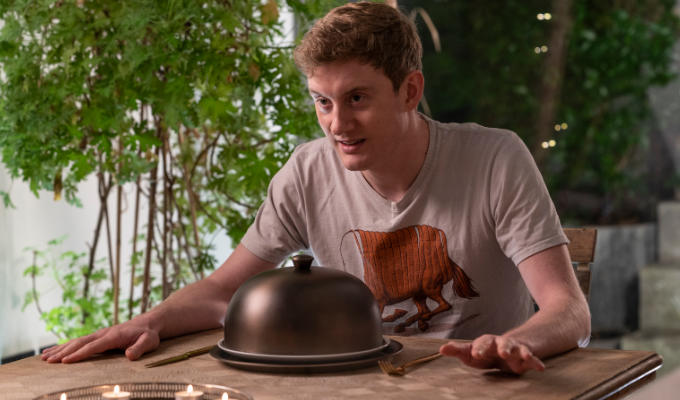 James Acaster: I didn't want to have anything to fall back on
James Acaster appears on Big Zuu's Big Eats next week. Here he talks about seeking good food on the road, his podcast Off Menu and working as a pot-washer in his youth...
---
You are a huge foodie. Where does that come from?
Just from travelling around a lot with my job. For years, I didn't really bother finding good places to eat. But then your life becomes constant travel and eating pretty bad food, so you start getting quite passionate about finding good places because you want your day-to-day life to have a bit more fun, and you want to eat a bit better, whether that's because you want to eat healthier or nicer tasting 'bad' food.
Why did you sign up to Big Zuu's Big Eats?
A few of my friends had done the show before and loved it. Ed [Gamble] did the pilot and to be honest I was jealous he'd been asked before me, before I even knew what the show was, because I knew I'd have a good time on it.
Having someone talk to you about what food you like and then cook you a meal based on what you just told them is a proper dream, isn't it? You don't get that very often. This is the moment in your career where you go, 'Okay, all those gigs where the audience heckled me or booed me or whatever, it's all worth it now, to come in and do this.'
You host a food podcast, Off Menu, with Ed Gamble where guests choose their dream meal at a dream restaurant. What's been the biggest revelation from a guest?
Claudia Winkleman said she's never knowingly drunk water, and Jordan Banjo did as well, he said it reminded him too much of spit. Both of those two were pretty big surprises. And just the amount of people who relentlessly don't choose a proper dessert and choose something savoury for pudding always annoys me.
You talk with your guests about everything from Michelin-starred restaurants to junk food…
If it tastes good, then we want to know about it. We've all got foods that are junk food, or just stuff you get from the supermarket. Just your bog-standard thing that maybe not a lot of people know about, so you want to tell people. I love those moments where someone comes on the show and genuinely loves one of those dishes. What I don't like is when they try and throw in one of those dishes to appear more relatable. We can spot when they're lying.
What did Zuu make for your amuse bouche?
I said I liked Indian food, so he made me these potato croquettes with loads of spices, covered in poppadoms, deep fried, very crispy and lovely, and also these starters that are like a little pastry shell filled with yoghurt. Both really delicious.
A lot of comedians just give up and end up eating pasties by the side of the road, don't they?
Yeah, we all go through that phase of just having pasties, especially if you've just started out in stand-up. It's quite nice, it makes you feel like a stand-up comedian: 'Yeah, I'm eating bad food at a service station!' But a surprising amount of comics are big foodies, because you can't live like that forever.
Have you been starstruck by anybody on Off Menu? You've had some pretty big names on there.
So many people! When we did our trip to America I was really starstruck talking to Teri Hatcher, and Jean Grae, who's one of my favourite rappers ever. I didn't think she'd say yes to the podcast, so it was so cool to have her on. When we did the first series, we had Rose McGowan. That was fun.
Do you think Zuu was intimidated by cooking for you because you're such a foodie and because you do the Off Menu podcast?
I wish! He's a confident man, so he knows he can nail it. If anything, he's like, 'Okay, cool. This is my chance to show off, because this guy likes food, so I can really show him who's the best.'
What was food like for you growing up in Kettering?
It was good. My mum's a wonderful cook, and we'd have a lot of home-cooked meals. She really wanted to make things healthy as well, so a lot of vegetable dishes and stuff like that. Pudding would always be a secret, because sometimes it was a good dessert, sometimes it wasn't. If we knew it wasn't, we wouldn't bother eating our main courses so she'd keep it a surprise.
There were days we'd eat our main course and then discover it was natural yoghurt again, and be absolutely furious.
Is this why you're so keen on puddings?
Oh, yes, absolutely. Also my dad loves puddings, and I've got his genetics. Me, my brother, my sister and my dad are all absolute sugar addicts. We can't get enough.
Is it right that you were a pot washer for a while, but you didn't want to be a cook because you thought that might distract you from your main career?
Yes. Everything that I did as a teenager and in my 20s was geared towards being a musician, being a comedian. I didn't want to get into anything else too much, and that's why I didn't go to university because I didn't want to have a qualification to fall back on. I didn't want to have a different career path to fall back on either, so I deliberately didn't learn how to cook in those kitchens, or try and climb the ladder or get good at any job that I was in, because I didn't want to have the option.
What was it like being a pot-washer?
It was oddly satisfying. Kitchens aren't always the most positive environment to be fair, people can be a bit mean. But the actual act of pot-washing was quite a therapeutic counterpoint to all that. I could retreat into the pot wash and it'd be quite nice.
Do you cook now?
I've been cooking a lot more this year because of lockdown, so I've been trying to improve my cooking skills. But over the last ten years or more, I've been travelling constantly so I'm hardly ever home.
When you're away most nights and you get back for one night a week, you're not going to try and teach yourself a new dish – you get a takeaway, or go for a meal with your friends or your girlfriend or whatever. So I just didn't really have much time.
This year I've been able to learn loads more dishes and it's been really satisfying. All simple stuff, but pretty tasty. And I've done lockdown with my girlfriend, so you definitely don't want to have a situation where one of you is doing all the cooking, unless that person absolutely loves cooking and has to do it. So it's nice to take turns with it.
What would you cook if I was coming around for tea tonight?
I have very simple things I like to do. I've got quite good at roasts. I really enjoy doing the roast chicken and doing all the trimmings and all the different stuff with that.
Also just a very simple pasta dish that I like to do when I just get some chorizo, slice that up, put it in a frying pan, medium heat, chop up some broccoli stalks, some garlic and chilli, put that in with the chorizo, put some pasta on to boil while you're doing that, and once the pasta's ready, put it together with the chorizo and everything else. Put some capers in there, some parmesan, salt and pepper, mix it all up. Really easy, and delicious every time. I love it.
When you took part in Celebrity Bake Off, the nation saw you having a 'small breakdown'. Do you remain disappointed about your performance?
Well, I guess my expectation going in was that I was going to do well! I had done one practice before going into the tent, and it had gone very well. I thought, 'Oh, baking's not as hard as I thought it would be,' and so I just left it at that.
I was like, 'I'm not going to devote loads of time to doing loads of practice bakes for this one show, it sounds mad.' And then the flapjacks in the first round went bad, and so then I obviously had zero confidence going into the technical. I was like, 'Well, this is going to be really hard.' And it was. For the showstopper I just enjoyed myself and messed around instead, because I was like, 'If I try doing anything again, I'm going to have a complete meltdown.'
I was quite disappointed with how stressful it was. But then afterwards, I was very happy. I still haven't watched the episode, but I'm very happy with how it went down, and that it was funny, because at the time I didn't feel like I was being funny. I felt like I was just doing really badly.
When we had Teri Hatcher on the podcast she really rubbed it in. She kept going on about how she got the Hollywood handshake: 'Oh, yeah, I got a few of them.' Shut up, Lois Lane!
James Acaster's episode of Big Zuu's Big Eats on Dave at 10pm on Monday, or on UKTV Play now.
Published: 8 Jun 2021
What do you think?