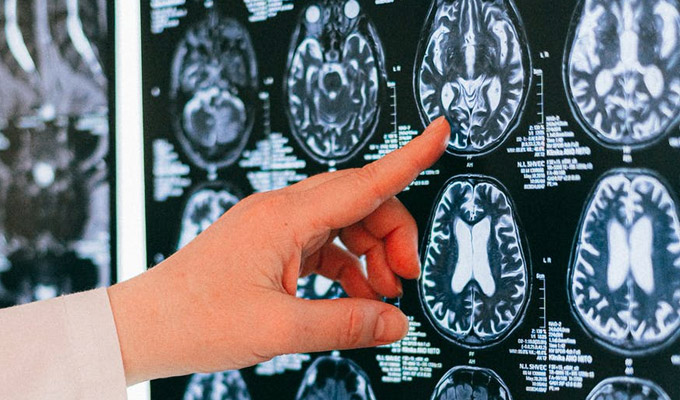 What makes comedians special? It's all in the mind...
Comedians might like to think their brains are wired differently than everybody else's – and now scientific research has proved it.
Professional comics show marked differences in areas of the organ linked with creativity compared to non-comedians, according to a study conducted by Pomona College in California.
The study conducted high-res MRI scans to map the brains of 12 professional comedians, nine amateur comedians, and 17 non-comedians.
In technical terms, comedians were found have a greater cortical surface area in the left inferior temporal gyrus, angular gyrus, precuneus and right medial prefrontal cortex.
'These regions have been previously implicated in abstract, divergent thinking,' said the report's authors, Jacob Brawer and Ori Amir.
The same parts of the brain were also shown to be more active when the same volunteers took part in a comedy improv session as part of a previous study. The researchers say this shows the regions may be the parts of the brain involved in what they call 'humour creativity'.
The findings – published in the journal Social Cognitive and Affective Neuroscience – also suggested a so-called 'dose' effect: that as subjects' comedic skills increased, so did their cortical surface area.
Speaking to specialist website Psypost, Amir – who also performs as a science-based stand-up – said it was hard to tell if it was nature or nurture that led to the increased surface area in comedians.
'It is yet unclear whether the anatomical differences we found in the brains of professional comedians are due to innate talent or professional experience,' he said. 'This distinction is notoriously difficult to make.'
He and Brawer say the greater surface area might be related to 'a more richly interconnected architecture in high-level semantic regions' of the brain, which they believe may be the mechanism that allows professional comics to make inventive connections between different ideas and perspectives, the fundamental skill of creating a joke.
Their paper also pointed to other studies that have demonstrated links between learned or inherited skills and brain anatomy, such as larger hippocampi in London cab drivers who memorised the capital's streets to complete The Knowledge.
Published: 8 Jun 2021
What do you think?