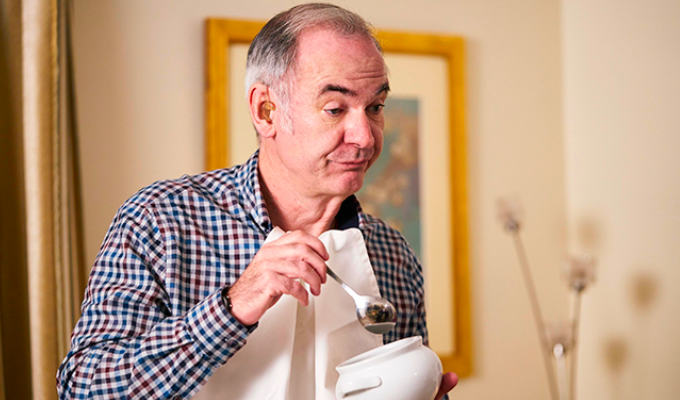 Friday Night Dinner was a 'great career gift'
Tamsin Greig says she tried to talk her Friday Night Dinner co-star Paul Ritter out of taking part in the show's ten-year celebrations before he died.
The actress, said she thought he was not well enough to record an interview for a tribute show going out on Channel 4 later this month.
In her introduction to the programme, Greig pays tribute to her on-screen husband who died earlier this year of a brain tumour at the age of 54, saying: 'We all miss him terribly - an incredible actor, a true friend and a lovely human being.'
She added: 'Sadly at the time of making the documentary, Paul was pretty unwell and to be honest – and don't tell the producers this – but I did try and persuade him not to do the interview.
'But it is testament to Paul's courage and generosity and dignity and complete lack of vanity that he wanted to participate in the documentary, to do an interview, and to really celebrate this little world that he's been a part of and that he's enjoyed so much over the years.'
'Paul would all want us to sit back and laugh and enjoy this celebration of the FND universe and say, as we do, in his memory, "Shalom."'
In his interview for the documentary, Ritter said he would 'be nothing' without the role of Martin, adding: 'It was the great career gift.
'In terms of interesting parts, he's been absolutely everything to me, and I have loved playing him. I've loved all the sort of extraordinary scenes we do.
'People like Martin; there's something about him that reminds them of their half-dressed dad, possibly with a hankie over his head and Eric Morecambe specs.
'There are some episodes of Friday Night Dinner which go full tilt into farce. I'm always delighted that Martin is somewhat the motor for that.'
Friday Night Dinner - 10 Years And A Lovely Bit Of Squirrel airs on Friday May 28 on Channel 4.
Published: 18 May 2021
What do you think?