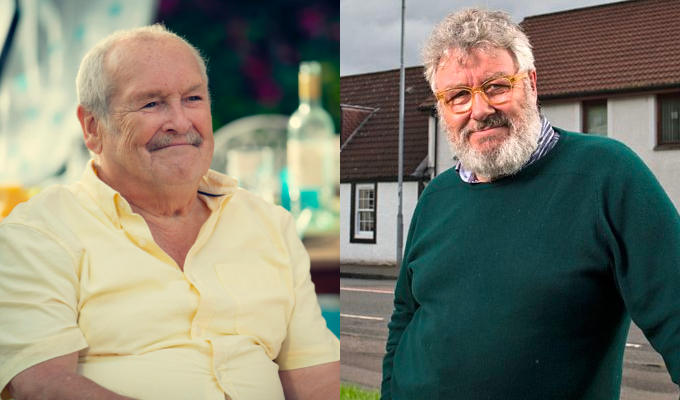 Gregor Fisher to replace Bobby Ball on The Cockfields
Rab C. Nesbitt star Gregor Fisher is to replace the late Bobby Ball in Gold sitcom The Cockfields.
Broadcaster Gold has today confirmed an extended second series of the show starring Diane Morgan and Joe Wilkinson, who co-writes it.
Executive producer Lucy Lumsden said the comedy had resumed with the blessing of Ball, who played Ray, the stepfather of Wilkinson's character Simon. He died in October, at the age of 76 after testing positive for Covid-19.
Fisher is not the only established sitcom star to be joining the comedy. Michele Dotrice, of Some Mothers Do Ave Em fame, taking over the role of family friend Lyn, originally played by Maggie Steed.
Susannah Fielding, from This Morning With Alan Partridge, will play Esther, Simon's new girlfriend; while Gary: Tank Commander and Fresh Meat star Greg McHugh his old schoolfriend Tony.
Wilkinson writes the show with Derek and After Life actor David Earl, known on the comedy circuit for his alter-ego Brian Gittins.
In a statement, the pair said: 'Thank you Gold loads for giving us a second series and supporting the show. We're so chuffed to finally be making more episodes of The Cockfields - although our mate Simon isn't, whose surname we nicked for the show. He's actually quite annoyed, as it goes. We also want to mention how sad it was to lose Bobby last year, and what an honour it was to work with him. A brilliantly funny man.'
The Cockfields stars Wilkinson as Simon, visiting his ever-doting mother, played by Sue Johnston, his controlling yet well-meaning stepfather and his celebrity-obsessed stepbrother (Ben Rufus Green) at their home on the Isle of Wight.
It ran for three episodes in 2019, attracting positive reviews, while the new series will span six half-hour instalments to air sometime later this year.
Pete Thornton, head of scripted programming at Gold's parent company UKTV, said: 'At last we're going to be allowed the opportunity to properly get to know this extraordinary family - and I know from the early drafts of Joe Wilkinson and David Earl's remarkable scripts that fans of series one are in for an absolute treat.'
Lumsden said: 'Huge thanks to Gold for letting us make more episodes of The Cockfields.
'We were so sad to lose Bobby who was such a special part of our show. With the blessing of Bobby's family, we'll be seeing more of the characters we fell in love with and the joyous relationship between stepdad and stepson that Joe and David write so well. We so look forward to getting back on to the Island.
The first series is being repeated from Monday May 24 at 10pm.
The Cockfields production credits
Written by: David Earl and Joe Wilkinson.
Made by: Yellow Door Productions
Commissioning team at UKTV: Pete Thornton, Gerald Casey, Richard Watsham, Steve North
Directed by: Simon Hynd
Producer: John Rushton
Executive producer: Lucy Lumsden
Published: 14 May 2021
Recent News
What do you think?