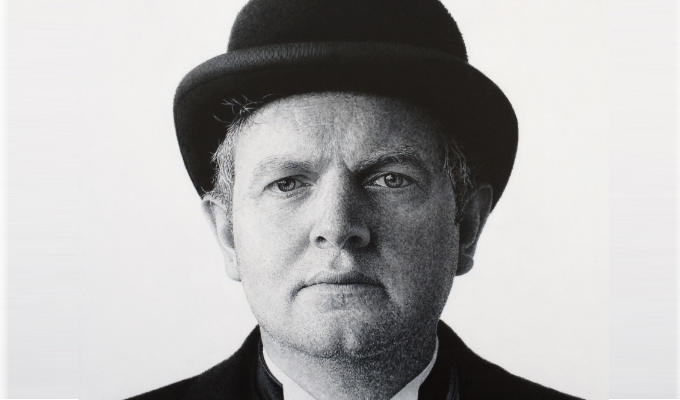 Miles Jupp is a work of art
This painting of Miles Jupp has been chosen for exhibition at this year's Royal Society of Portrait Painters annual show.
It features the comedian in character as David Tomlinson in James Kettle's play The Life I Lead, about the Mary Poppins and Bedknobs and Broomsticks actor.
He sat for painter Martyn Burdon backstage at the Cambridge Arts Theatre, in costume and between performances.
The comic said: 'I'm so thrilled with the picture. It's such a lovely thing to be asked to do. Although it's of a man in a bowler hat and wing collar, it is still very modern.
'The level of detail is quite astonishing, as well as the fact that it seems very three-dimensional to me and that so much is going on behind my eyes, which isn't always the case in real life.
'It was very flattering to be asked to sit for Martyn, and the picture is a reminder to me of a very happy time. The play was difficult to perform just in terms of the sheer responsibility of a one-person show, but was also incredibly satisfying and the audiences were really terrific.
'And when I look at the portrait I think about Tomlinson and his wonderful family, who I met so many times during the run of the show, and all the people who worked on it, both in the rehearsal room and on tour.'
Kettle added: 'One of the aims of the play was to yoke together two great comic actors from different generations, and Martyn's stunning portrait captures exactly that - two geniuses in one body.
'It's a work that really captures what I hope is the spirit of the piece, playful but also possessed of hidden depths.'
Last year, Bedford-based Burdon was selected for the prestigious BP Portrait Award show at London's National Portrait Gallery for the abovr image of Sir Lenny Henry. And his portrait of Matt Berry made the same shortlist in 2017.
The Royal Society of Portrait Painters show, which features 200 works of art including the image of Jupp, is at the Mall Galleries in London from Thursday to May 15. Tickets, priced £5, must be booked in advance.
Published: 3 May 2021
What do you think?