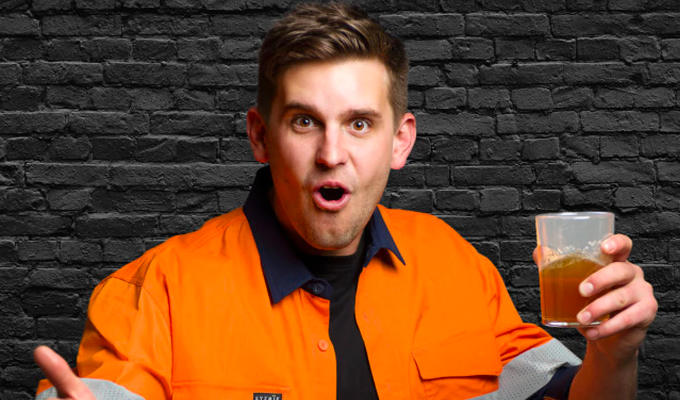 Alex Williamson dropped from festivals after abuse claims
Australian stand-up Alex Williamson has been dropped from comedy festivals and by his agent after being accused of physical abuse and 'predatory behaviour'.
The comic's angry response to the accusations by his ex-girlfriend, the singer Peach PRC, only exacerbated the problem, causing a major backlash online.
Now Williamson – who has made the headlines several times after his gigs turned aggressive - has been axed by the Perth and Sydney Comedy Festivals and by management firm More Talent.
Earlier in the week, Peach alleged YouTuber turned stand-up Williamson, 32, was 'abusive, manipulative, and predatory' and had done 'absolutely vile things' to her and other women.
In a long social media post, she said: 'I didn't speak up loud enough last time and still carry so much guilt that it lead [sic] to someone else being hurt. And I won't watch it happen again. I am not scared of you Alex. Your empty threats are pathetic and I won't be silenced any more.'
In response, Williamson posted several videos to his 500,000 Instagram followers denying the allegations and giving explicit details of their sex life, saying she 'threw herself' at him when she was 19 and he was 29.
Both the festivals confirmed that his shows had been dropped, while Australian website Pedestrian obtained emails detailing how More Talent said they did not want to be associated with the 'unacceptable' responses from Williamson.
In March last year, Williams proudly posted footage of himself repeatedly taking swings at a punter at a gig who retaliated by attempting to glass him with a bottle. When he posted the clip he invited audience members to 'come bottle me' at future show.
In October, he said he was seeking mental health advice after turning nasty on a punter in a comedy club in Adelaide, telling a heckler he was glad his parents were dead, then aggressively squaring up to him, kicking drinks off his table.
And last month the comic released footage of a punter marching up to him on stage punched him in the head, with Williams taunting him with obscenities as he's bundled away.
Published: 30 Apr 2021
What do you think?